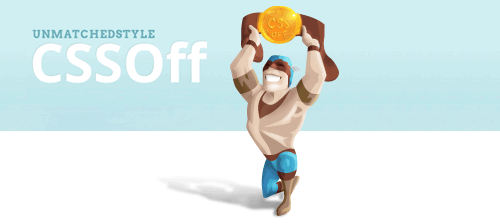 CSSOff has been one of the biggest undertakings we've done here at UMS, and we put on a live conference each year too. We've gotten so much out of this from reviewing all of the entries, but the main thing is to say congratulations to Danny Connell and thank you to everybody who submitted for the hard work and patience. So take a look at the entries and make sure to read some of our initial thoughts below.
Every entrant will be receiving an email with their score and any feedback/notes that were left for them in the next day or so. Keep an eye out for that and you can always follow us on twitter @unmatchedstyle to keep up with what's going on with everything.
For now, let's just get down to business and list out the top 25 winners:
Overall
Whew. We're finally done. All of the judges spent many, many hours judging over 400 entries. We've tried to be as thorough and as fair as possible. The scores you see above are averages of all of the judges individual scores. Collectively, the judges spent time on each and every entry. Running validation, looking at html, css and javascript, opening them in multiple browsers and devices, and thoroughly examining how each and every entry was put together. We've got a lot of thoughts and a lot of data that we continue to pore over and we'll be making follow-up posts to pull out some of our favorite details from the submissions. It was a lot of work and there were many, many solid entries, and overall it was very impressive that the majority showed a solid grasp on current standards and techniques.
Some Things We Found
To start with, most people did a great job of matching layout and typography and most entries rendered and behaved well in modern browsers. There was a surprisingly high number of entries that didn't work so well in IE8, however. While it may not be the modern browser we all want it to be, the fact is that it is still a very common browser. We also included IE6/7 support as a challenge to see how thorough you could be (and maybe just to be a little sadistic..) and a number of entries performed very well, showing that it can be done. Additionally, a number would have fared better in IE6 if they had just included a PNG fix of some sort.
One of the more interesting parts of the contest is how the form was handled. Since the design didn't really show how these were to be handled, we hoped the entries would show creativity. There were a lot of variations on validation and interactions on the form elements. We'll be doing a post showing some of the more interesting ways that people handled this.
We also included responsive design as a criteria since it is probably the most important thing happening in web design and development right now and it's important that someone building websites knows how to implement it. For a number entries, this turned out to be a differentiator. Many failed to attempt any sort of responsive approach, resulting in no score for that section. Many others were responsive in the browser, but not when pulled up on a device, resulting in a lower score. As a result, many if not all of the top entries are fully responsive.
Another major issue that we saw was a lack of attention paid to image size. This was a challenging design in that essentially the whole thing had to be covered by some sort of image, whether it was a texture or a large object of some sort. There were instances when similar images from entry to entry could range in file size from a few kilobytes to 5-600k.
What Next?
So this CSSOff is over but we're already planning the next one. Hopefully you guys will all come back and try it out. We also have plans to fully explore all the data we've collected from your 400+ entries. We'll be sharing all of this in the coming weeks/months so we sincerely hope you'll check it out.
Thank You
Thank you to each and every one of you who entered the CSSOff and thank you to all the judges.