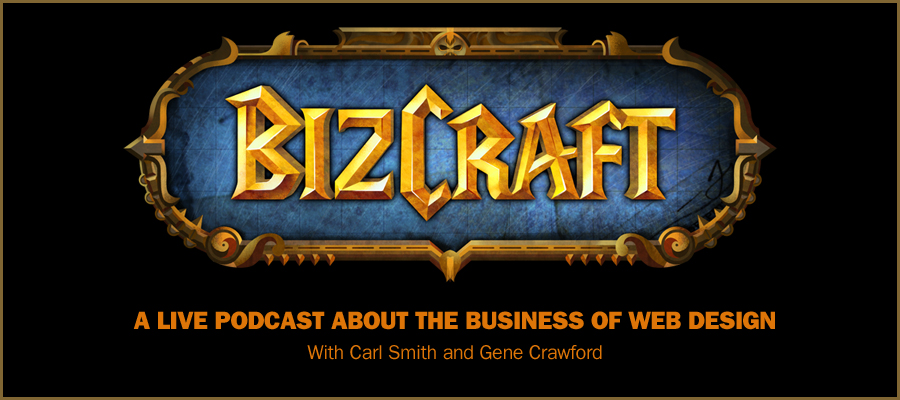 Play or Download this Episode
Download MP3 / 00:50:29)
Subscribe to the Show
iTunes / RSS feed / Get Email Updates
About the Show
This is BizCraft, the podcast about the business side of web design, recorded live almost every two weeks. Your hosts are Carl Smith (@carlsmith) of nGen Works and Gene Crawford (@genecrawford) of UnmatchedStyle.
This Episode Show Flow
In this, for real; LIVE episode, Carl and Gene talk about "Shit that matters" – but mostly we talk about Prince.
Show Flow:
Welcome & we caught up on some life stuff.
Gene's recent Blackbelt promotion get's mentioned.
Carl launched some badass Bureau Community stuff.
*SERIOUSLY GO SIGN UP*
"Jellyfish" finally a go – but still needs some work… like most things in life.
QUICK HISTORY OF THE BUREAU
Bureau in 2012 Greg Hoy & Greg Storey founders
Online Community is now live
BizDev Camp
Owner Summit
Design Leadership Camp
Slackworld!? – you expect output just by asking. That's not how it always works…
Business Development AKA: Bizdev
It's much larger than the name.
Working "ON" your business instead of "IN" your business.
It is NOT sales.
*Account Reps are becoming a thing in the digital realm. Kinda old-school but nice.
Sidebar:
Spec work vs. No Spec Work – how do you sit with that?
Our experiences with spec/no-spec in the world.
Beer at the end of the show:
Carl: Sierra Nevada Pale Ale
Gene: Strawberry Blonde from Belmont Brewing Company