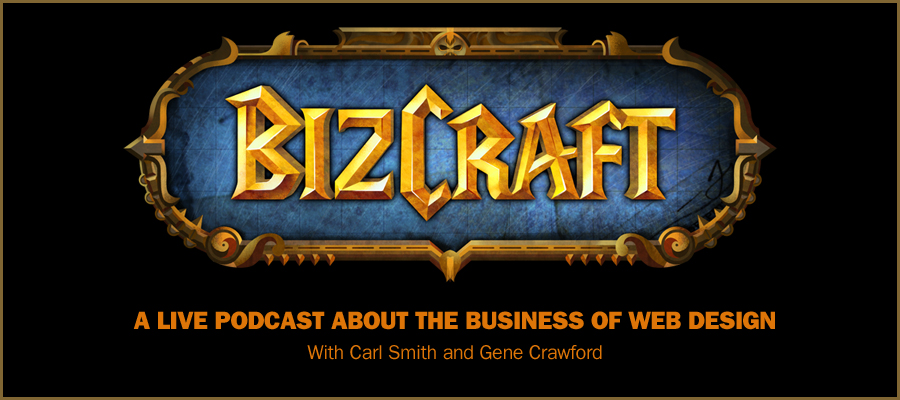 Play or Download this Episode
Download MP3 (41 MB / 01:02:19)
Subscribe to the Show
iTunes / RSS feed / Get Email Updates
About the Show
This is BizCraft, the podcast about the business side of web design, recorded live almost every two weeks. Your hosts are Carl Smith (@carlsmith) of nGen Works and Gene Crawford (@genecrawford) of UnmatchedStyle.
In this Episode of BizCraft we answer a listener question, we discuss local markets, raising rates, pricing and getting along.
We answered a question from Harry O'Connor who recently posted to us on the last show's post.
Firstly, a question about price. I run my business in a small city, and we are competitively priced, however I feel we are charging less than we are worth. In one of your episodes you said that if you could go back in time 10 years you would charge more than the $100/p/h you charged initially. That is quite a bit more than we charge and our company has been running for over a decade – bear in mind we are in the UK. So how does one increase prices in a location where there is not a lot of wealth and web design isn't seen as something that should cost a lot? We have slowly increased our prices over the years, but if we were to double it I don't think that would be good for our business.
What we covered:
Don't stay local, get outside of your geographic location.
You might be expensive in your town, but not in another town.
Get over your own fear about raising rates. You are worth it!
How to approch pricing, hourly vs. value.
Figure out what you think the client will actually pay and work backwards from there.
Work out the value of the work to you vs. what the client gets and charge appropriately.
Don't worry so much about justifying everything you do for a client.
Secondly, how does a small business make that leap into finding dream clients? This isn't silicon valley – so what can we do to network with exciting businesses we would like to work with that are not geographically close?
Carl did some direct marketing, letters, direct mail, direct contact and then basically beg for work.
4 out of 100 responded to this approach. ~5,000 pieces of mail.
Sales man!
Get out and talk to people and try to help to get some discussions going.
We covered this post by Austin Church as part two of this episode: Jobs Aren't Assets: 8 Ways for Creatives to Make More Money
Hire subcontractors

Be careful who you work with and make sure you take care of them when they do your work.
Bring in people you know and trust.
Watch out for making sure subcontractor's work is up to your standards, it can take as much time as it would to just do it yourself…

Hire employees

Yep, again, take care of these people and commit.
They should mostly be "producers" of work.
For every 3 "producers" you can have 1 "non producer" (like a Project Manager or something.

Increase your rate
Teach what you know

We hava a ton of questions about this…

Create products or services
Sell retainers

Double thumbs up, go for it and lock 'em down.

Negotiate equity stakes

We're going to shelve this for a future episode.
Quick answer: nope.

Sell other people's stuff

Meh… except for Qcat of course.
Beers During The Show
Gene: Two Brothers Cane and Ebel – Red Rye Ale
Carl: Dale's Pale Ale (Can)