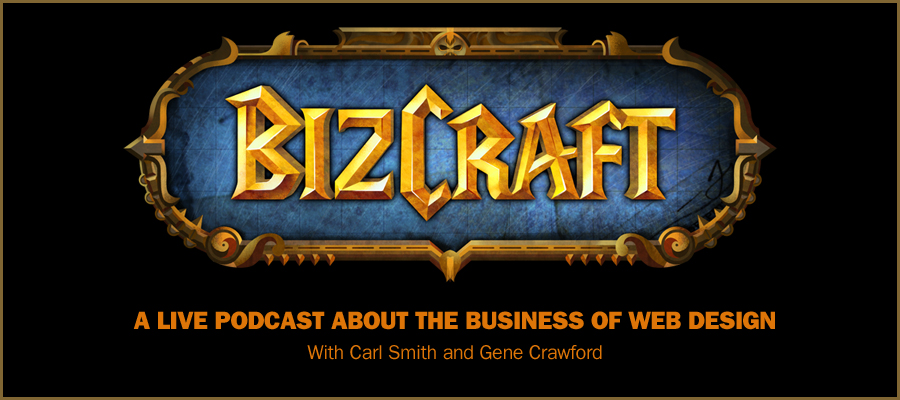 Play or Download this Episode

Download MP3 (44 MB / 00:47:22)
Subscribe to the Show
iTunes / RSS feed / Get Email Updates
We are now also syndicated on Stitcher.
About the Show
This is BizCraft, the podcast about the business side of web design, recorded live almost every two weeks. Your hosts are Carl Smith (@carlsmith) of nGen Works and Gene Crawford (@genecrawford) of UnmatchedStyle.
Episode Overview
In this episode of BizCraft Carl and Gene talk about things going on in the web design business industry. How shops are struggling and some reasons why maybe.
Show Flow:
The Truth-teller Episode… State of the web and stuff…
Topics we discussed:
Struggling shops. Shops of all shapes and sizes.
Lots of talent going to work for the bigs (Apple, Facebook, etc…)
Adaptive Path acquired by Capital One
Specialized vs. Generalist
Full Services shops popping up again…
Agencies scooping up small web shops
New work vs. Old Relationships
SF shops closing their doors… (actually everywhere)
Jellyfish Alliance, article on the nGen site by Carl
Salaries going up, clients building internally, new talent growth and salaries.
Great article on this subject by Paul Boag on Creative Bloq
Hey send us follow up questions! and we'll dig into what you send in an upcoming show. PROMISE!
Owner Summit January 2015 (ownersummit.com)
Where @ next?
Breaking Development: Beyond the Desktop
https://bdconf.com
ConvergeFL Nov 7-8th
Owner Summit January 2015 (ownersummit.com)
Drinks at end of show:
Gene: Spaten Oktoberfestbier Ur-Märzen
Carl: Invasion Pale Ale (From Cigar City)