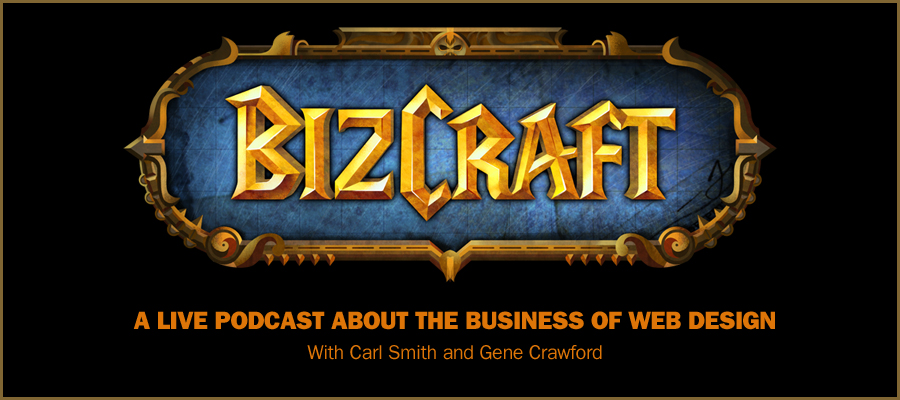 Play or Download this Episode

Download MP3 (46.12 MB / 00:33:35)
Subscribe to the Show
iTunes / RSS feed / Get Email Updates
We are now also syndicated on Stitcher.
About the Show
This is BizCraft, the podcast about the business side of web design, recorded live almost every two weeks. Your hosts are Carl Smith (@carlsmith) of nGen Works and Gene Crawford (@genecrawford) of UnmatchedStyle.
Episode Overview
In this episode of BizCraft Carl and Gene talk about managing your time on a life level, saying no to things and how to get things going.
Show Flow:
Let's talk about time, how it's sooo important, how we manage it or don't.
http://www.businessinsider.com/warren-buffett-productivity-trick-2014-9
"You've got it wrong, Steve," he said. "Everything you didn't circle just became your 'avoid at all cost list.' No matter what, these things get no attention from you until you've succeeded with your top five." – Warren Buffet
Maybe a side bar into how to say no, or our personal struggles with saying no.
http://mashable.com/2014/09/10/how-to-say-no-to-anyone/
It's super hard to say no to people you like. Right?
https://medium.com/the-blog-of-james-clear/the-mistake-smart-people-make-being-in-motion-vs-taking-action-fd5873162a9b
"If I email 10 new leads for my business and start conversations with them, that's motion. If they actually buy something and turn into a customer, that's action."
Are you doing something? Or are you just preparing to do it?
Talk about what it is we do, how it got us to where we are and how we evolved personally and professionally. Then talk about what we look for in a person to work on our team. http://keirwhitaker.com/blog/thoughts-on-specialising/
Differentiate or Die? by Greg Hoy
https://the-pastry-box-project.net/greg-hoy/2014-April-17
"When you're in the middle of a tough situation, it's human nature to wonder what the hell you're doing wrong. I believe the best thing you can do in these circumstances is to talk to others who are going through it themselves. And talk to those who aren't, too. Take stock in what they share. Apply what you think makes sense. Remain true to your gut."
Focused Generalist vs. Subject Matter Specialist
Example: CenterCenter creates generalists as UX specialists
Where @ next?


Breaking Development: Beyond the Desktop
https://bdconf.com
ConvergeFL Nov 7-8th
Drinks at end of show:
Gene: No beer for this episode.
Carl: 3 Daughters (St. Petersburg)