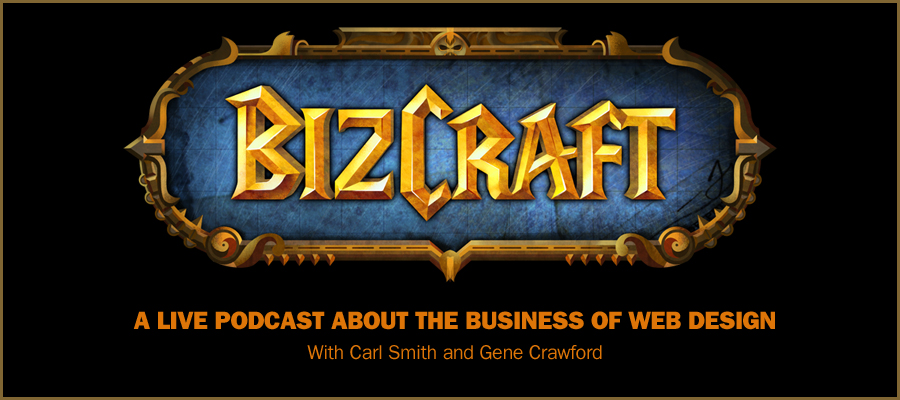 Play or Download this Episode

Download MP3 (52 MB / 00:37:36)
Subscribe to the Show
iTunes / RSS feed / Get Email Updates
We are now also syndicated on Stitcher.
About the Show
This is BizCraft, the podcast about the business side of web design, recorded live almost every two weeks. Your hosts are Carl Smith (@carlsmith) of nGen Works and Gene Crawford (@genecrawford) of UnmatchedStyle.
Episode Overview
In this episode of BizCraft Carl and Gene get into personal core values that drive their personal, professional and business goals.
Show Flow:
Core Values
An exercise to uncover yours, do the following:
List 3 Greatest moments in your life.
List 3 Greatest moments of efficiency.
Then list out the opposite.
Then write out how your core values can hurt you.
Carl's core values statement:
Honor, Purpose, Openness, Collaboration, Simplicity
Gene's core values statement:
Truthfulness, Honor, Loyalty, Right Action, Courage, Benevolence, Politeness
Mark Divine's 5 Mountains
Divine (sealfit.com) uses 5 mountains to his approach to leadership to develop skills in physical, mental, emotional, intuitional and spiritual arenas. Some of the things these 5 mountains tap into are:
Asking yourself "What's your why?"
Finding your set point by taking a stand, finding your purpose and embracing versus running from risk, loss and failure
Developing front site focus
Envisioning your goal by seeing it, believing it and making it happen
Taking your eyes off yourself
Burning your boat
Excelling in chaos
Making variety a habit
Slow is smooth and smooth is fast
Where @ next?


Digital PM Summit Oct 6th & 7th in Austin, TX – dpm2014.com


Breaking Development: Beyond the Desktop
https://bdconf.com
ConvergeFL Nov 7-8th
ConvergeRVA Oct 10th
Drinks at end of show:
Gene: Sierra Nevada Anchor Steam
Carl: 3 Daughters (St. Petersburg)