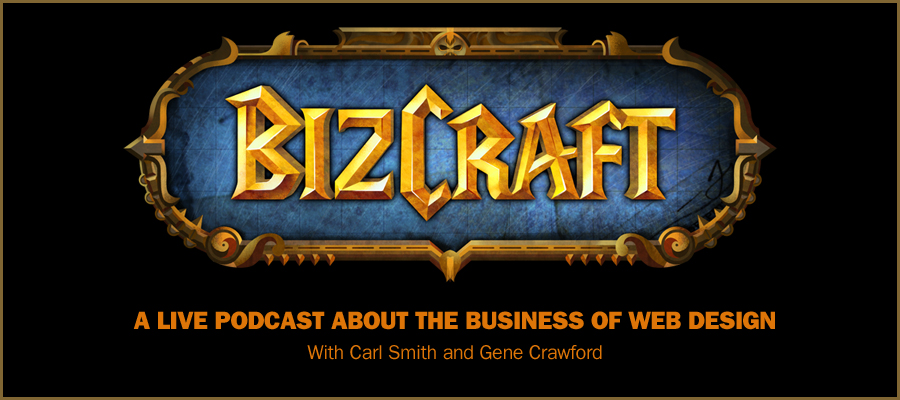 Play or Download this Episode

Download MP3 (55.95 MB / 01:01:07)
Subscribe to the Show
iTunes / RSS feed / Get Email Updates
We are now also syndicated on Stitcher.
About the Show
This is BizCraft, the podcast about the business side of web design, recorded live almost every two weeks. Your hosts are Carl Smith (@carlsmith) of nGen Works and Gene Crawford (@genecrawford) of UnmatchedStyle.
Episode Overview
In this episode of BizCraft we talk all about speaking at conferences; what to ask for, what to expect and some opinions form both sides of the discussion.
Show Flow:
Scott Berkun's "Open letter to speakers"
scottberkun.com/2011/an-open-letter-to-speakers
As a speaker you need to learn to perform. Let's go through each of his points in his article and discuss each one and what it means to both of us.
Mark Boulton's "what are you worth" post
http://markboulton.co.uk/journal/what-are-you-worth
"If every speaker I knew insisted on charging $5000 per gig, there will be a lot less conferences in the future apart from the big, corporate, bland pizza-huts of the web design conference world."
Jenn Lukas' "formula for speaking fee" post
http://www.thenerdary.net/post/84544230452/a-formula-for-speaking-fees
A response from Jessica Hische in discussing the difference between talk types:
"All this said, I hugely prefer doing talks for students / young professionals and love more "inspiration" style talks instead of technical / instructional speaking—which means I have to watch how many talks I agree to since my income takes a major dip whenever I'm doing a lot of speaking."
Questions:
Chris Harrison @cdharrison
At what point is it reasonable to expect more than travel and accommodations to be covered when speaking at a conference?
Where @ next?
Breaking Development: Beyond the Desktop
https://bdconf.com
ConvergeFL Nov 7-8th
ConvergeRVA Oct 10th
Drinks at end of show:
Gene: Kernal Panic – Blond Wheat Ale
Carl: People's Pale Ale (Official beer of the bold city brigade)