James White
The Business of Illustration
One of the scariest moments as a creative is realizing that you can't just create, you have to sell. Even creative professions require business acumen. This is a major problem for many creative people, many of whom never learn how to sell their work or promote their brand.
James White has mastered the skills necessary to be an independent illustrator and designer in today's market. He makes the art that he values most and has built an international following that encompasses individual collectors and major brands alike.
Giovanni asked James about how he manages the day-to-day operations of being an independent brand and what it takes to make it as an artist.
About James White / Signalnoise
James White is a visual artist and designer from Dartmouth, Nova Scotia, Canada, and is the one-man wrecking crew behind the Signalnoise Studio. Drawing since the age of 4, his career started very early and now with 14 years of design experience, he has worked with clients such as Nike, Google, MTV, Diesel, VH1, Wired, Universal Music, and more. On top of that, James prides himself on the many personal art projects he endeavours in order to keep evolving as a creative person, including alternative art movie posters. James has been featured in many international design magazines and has spoken at several conferences around the world.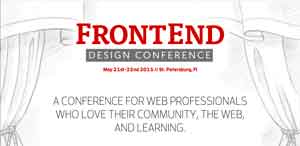 James will be speaking at Front End Design Conference in May 2015 in St. Pete, FL.