I took a few minutes to call up my good friend Christopher Schmitt @teleject on Skype and talked to him about the upcoming Responsive Web Design Summit.
It's coming up fast on April 16-April 18, 2013 from 9AM to 4PM (CT).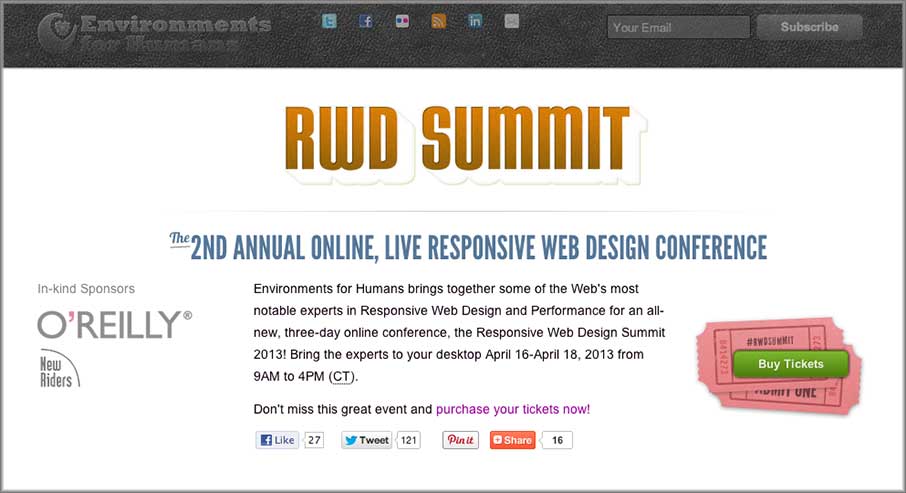 Take a look at the lineup, holy cow!
Performance on April 16, 2013
Measuring Web Performance by Dave Olsen, Creator of Mobile in Higher Ed
CSS & Mobile Performance by Estelle Weyl, Author of HTML5 and CSS3 in the Real World
Image Optimization Methodology by Tobias Baldauf, Freelance Web Performance Consultant
Optimizing Media Queries by Kimberly Blessing, Director at Think Brownstone
Strategy on April 17, 2013
Mobile Development on a Shoestring Connection by Jenifer Hanen, Mobile and Web Designer/Developer
The New Responsive Web Design Workflow by Trent Walton, Founder & 1/3 of Paravel Inc.
Reports from the Trenches by Dan Mall, Founder of SuperFriendly
Content Strategy for the Future by Sara Wachter-Boettcher, Author of Content Everywhere
Universal Typography by Tim Brown, Type Manager at Adobe Typekit
RWD & Client Management by Matt Griffin, Founder of Bearded
Technical on April 18, 2013
Fractal CSS by Ben Callahan, Co-founder of Build Responsively Workshop Series
RWD with Sass+Compass by Sam Richard, Sr. Front End Developer for NBCUniversal's Publisher Team
Responsive Layouts Beyond the Sidebar by Jen Simmons, Host of The Web Ahead
Navigation in RWD by Erick Arbe, Founder of Golf Web Design
Rebuilding a University Homepage to be "Responsive." Twice. In Less than a Year. by Erik Runyon, Manager of Interactive Development at Notre Dame
Responsive Web Apps by Dave Rupert, Lead developer for Paravel, Inc.
The Giveaway
Leave us a comment on why you love "or hate" Responsive Web Design and we'll pick a winner randomly from one of you fine people who leave one!
You can also get 20% off your pass to the RWD Summit by using "20UMS".