I have always been a fan of the Made By Few conference, ever since Giovanni gave a talk at the very first one. Heck we met Arlton back when he was helping out with LessConf in Atlanta. Always a stellar dude, I asked him a few questions about his conference in Bentonville, Arkansas on October 26-29th 2016:
1) When and why did you start producing Made by Few?
I started the Made by Few conference in 2012. I wanted to create a high-quality event that focused on the convergence of design, development, and entrepreneurship. I'm a very community-focused individual, so it needed to be inclusive and very affordable, as well. With those values and goals in mind, I engaged a couple friends of mine to help out – Gabe Couch, who designed the initial MxF branding, and Abbi Siler, who helped with social media and operations.
That first year we didn't have much money, so it was a grassroots effort to get everything in place. I had to ask a lot of favors from friends and I invested a great deal of my own money. It was very much a labor of love.
2) What impact has it had on your business and the community in Arkansas?
That is a good question. It's very difficult to equate the impact the conference has had on the local community. Some locals would sing its praises at the top of their lungs, but I prefer to stay humble about what we've been able to achieve. For me, the real impact is drawing talented professionals from all over the country to our state, giving them an amazing experience, and potentially providing them a different perspective of our state. Drawing those professionals here gives our local talent the opportunity to interact with them. Providing a platform for individuals to share ideas, build relationships, and changing mindsets is big goal of mine each year.
After each year I get feedback, letters, and emails from people who tell me how the event has affected them personally; some of whom get the confidence to quit their jobs and start building something they've always wanted. Others return to their jobs invigorated and full of new ideas. Many meet a new best friend or co-founder. That's the best part every year for me.
3) MxF has been called an "immersive celebration of creativity", what are your thoughts on that?
I would agree with that notion. Creativity is one of the beautiful things that make us human. That's why we focus on it so heavily each year. We want to provide a welcoming and engaging environment for people to feel comfortable expressing themselves. We work very hard each year planning the conference, putting the right speaker line-up together, having the right visual and sensory experiences in place for attendees, making sure the design is on-point, and orchestrating the coolest activities within our ability. We're not thinking about how much money we can make from throwing this event (if any). We're hyper-focused on the experience. I think that's what makes anything "great" – the willingness to not bend on the quality of whatever you're creating, planning, building, etc. The MxF attendees' experience is our #1 priority.
4) When and why did you start doing the Designed by Few portion of MxF?
So, we started the Designed by Few portion of the conference in 2013. We were really into what the Cut&Paste folks were doing around the world with their events and we wanted to do something similar, but with an altruistic spin. Each year we pick a new local non-profit and meet with them to find out how design can help move their initiatives forward.
Last year the designs produced at DxF went to benefit the THEA Foundation, a nonprofit that helps kids find confidence, self-worth, and perspective through creative expression. They were able to use the poster designs produced to promote "Girl Talk", an event that highlighted some of the amazingly talented female artists in our community.
Yes, the DxF competition is fun to watch and participate in, but we really want to make sure that what the designers create can have a significant impact.
5) How was it originally received by the attendees and community at large?
Our attendees loved the first DxF and each thereafter. It's a killer event. We have music, an open bar, incredible designers doing what they do in front of an audience, and everything goes to benefit a non-profit, all while highlighting some of the most talented designers in our area. Last year we added an 80's theme, which people went nuts for – just check out the photos on our Facebook page to understand why. Things got crazy and a little weird (in a good way).
6) What is your fondest memory of a past DxF?
Each DxF has been a lot of fun, but last year's event is going to be hard to top.
My fondest memories at any of our events are always going to lean towards getting to hangout with my close friends who travel from great distances to attend. Last year I had friends travel from Hawaii, North Carolina, Florida, Wisconsin, and New York. That means a lot to me. I've got a friend who is currently living and working in Vietnam that plans to attend this year. I can't wait to see him. Getting to see my friends is as important to me as any of the other reasons I throw the conference each year.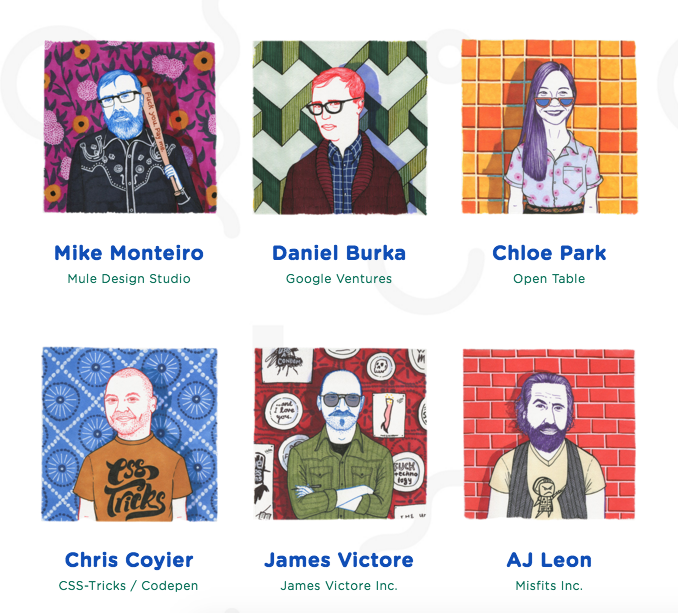 7) What are you most looking forward to for this year's MxF & DxF?
This year is going to be biggest MxF to date. We've got numerous events and activities spanning four days, which is much more ambitious than previous years. I'm really looking forward to showcasing creative parts of our state we haven't addressed in the past.
We're kicking off the conference activities with a new event called MxF Fireside Talks, that's going to be hosted by Chris Coyier from CSS-Tricks and CodePen. It's going to feature talks from local, regional, and national creatives. We're going to be holding it outdoors at a winery. I'm pretty excited about that. I like wine.
We're also introducing a craft show component to this year's festivities, called Handmade by Few. It's in partnership with the good folks over at The Little Craft Show, a high-quality semi-annual craft show that takes place in Northwest Arkansas. It's going to be open to the public and accessible to the attendees each day of the conference. We're going to be showcasing talented craftsmen and craftswomen from Northwest Arkansas, Kansas City, Tulsa, Little Rock, and Memphis. It should be a lot of fun.
Also, we're adding bouncy houses to the after-party and a halloween costume contest to DxF… among other things.
8) Any parting words for those looking to attend a conference like MxF?
Conferences are a very important part of a creative individual's continuing education, especially creatives who work on the web. There is no federal or state mandated requirement for them to keep up with trends, to learn new methodologies, to grow as professionals. Conferences provide a platform for attendees to refine and gain new skills. I would encourage all creatives to attend conferences. Attending conferences can only help push their careers to the next level.