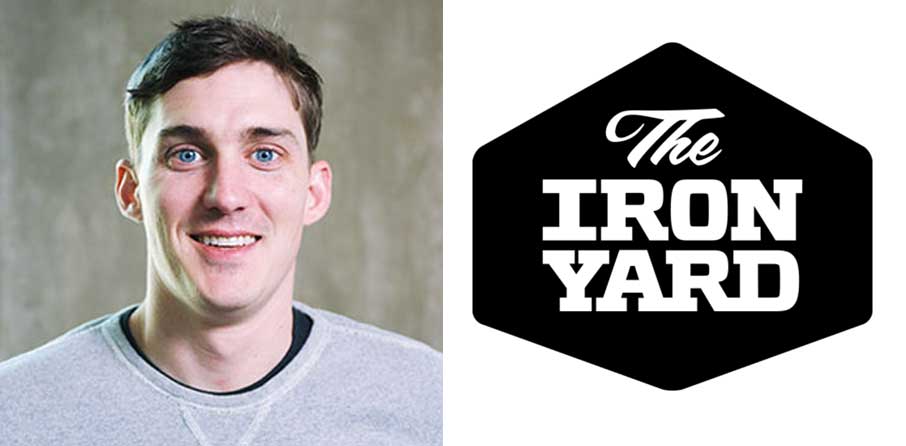 The Audio Interview
Eric Dodds @ericdodds
For The Iron Yard, what started as an accelerator in Greenville, South Carolina has expanded to include co-working spaces and coding education services in seven cities across the Southeast United States, including Durham, North Carolina; Atlanta, Georgia; Houston, Texas; and Orlando, Florida. The crazy thing is, they've only been in the expanding process for 6 months. Up until January of this year, their only code school location was in Greenville. The Iron Yard is looking to revolutionize the Southeast by training and equipping people to be web developers.
In this podcast, Eric Dodds, Partner and Head of Brand and Operations at The Iron Yard, shared with us the path that The Iron Yard took to be where they are today, and why code education is taking off in the Southeast and beyond.
The development classes began in early 2013 with seven students in a Greenville classroom. The course taught Java Script, and was a huge success. Other cities took notice, and soon the expansion process began. The key to their success was a solid model that was easily recreated in new cities. To keep up with the intense expansion process, The Iron Yard partners are constantly traveling to different locations to facilitate development, often visiting current campuses and new cities every week.
One of the biggest problems they have encountered is the very problem they are seeking to solve – a lack of qualified talent. The Iron Yard team has to find people that are both talented developers and instructors in every new city. Luckily, they have been able to find a group of passionate development teachers, many of whom wanted to teach web development but ended up working in the field, until now.
One of the events that The Iron Yard is most invested in is Greenville Grok, which started around 5 years ago as conversation-focused private event where designers and developers could come together to discuss daily struggles, inspirations, issues, ideas, and everything in between. What started as a gathering of 25 people has grown to include over 250 individuals without losing its focus on small discussions rather than keynote events. For a lot of people, this is a chance to work on a business or a craft instead of in it. Grok is less about learning a new skill and more about discussing what you're doing and why you're doing it.
The Iron Yard's love and support of conferences is shared by one of its partners, Unmatched Style, a company that focuses on web design with an emphasis on aesthetic appeal and usability. They also run a portfolio of top-notch design and development events across the Southeast.
This partnership combines the best of both worlds, marrying Unmatched Style's expertise in events and design to The Iron Yard's focus on education. In fact, this podcast was recorded at BDConf, a boutique multi location conference about the mobile web.
When Eric Dodds was asked what he thinks needs to happen next in the Southeast, he simply responded that technology professionals need to keep doing what they're doing – building great companies, developing great products, and training great developers. With a recipe like that, and people like Eric leading the way, great things will continue to happen for our region.
Who Did The Interview?
The Interview was conducted by Clark Buckner from TechnologyAdvice.com (they provide coverage content on employee engagement systems, SaaS BI software and much more). Also be sure to check out their TechCalendar.