Aaron spoke at our BDConf DC in 2015 about Discussing Design. He's speaking again at ConvergeSE in Columbia, SC, April 13-15th.
On The Interwebs:
Aaron Irizarry, known in luchadore circles as El Cubano Magnifico, is Director of User Experience for Nasdaq Product Design and has been building online products for startups and large corporations for over 10 years. Aaron is also a public speaker and consults with companies providing design studio and collaborative critique workshops to help their product teams and stakeholders/managers improve the discussion around product design.
Here's a little more about his talk:
Collaboration requires us to share our work; to communicate our ideas with one another and to collect other's thoughts to know whether the designs we're producing are meeting the objectives of the project.
But often we wrestle with collecting feedback.
We get comments that are less then helpful because they seem irrelevant or unclear. Or we find that we're getting feedback and reactions at inopportune times rather than points in the process where they would have been useful in informing design decisions.
Our ability to critique speaks directly to the quality of the conversations we have with teammates, whether they be designers, developers, stakeholders, etc. Designers frequently complain about the quality and uselessness of the feedback they are given, but we rarely examine our own processes to identify how to collect useful feedback and make the discussions around our designs more productive.
 Oh Yes – There is a Book: Discussing Design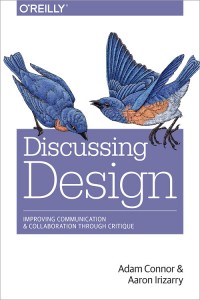 Real critique has become a lost skill among collaborative teams today. Critique is intended to help teams strengthen their designs, products, and services, rather than be used to assert authority or push agendas under the guise of "feedback." In this practical guide, authors Adam Connor and Aaron Irizarry teach you techniques, tools, and a framework for helping members of your design team give and receive critique.
Using firsthand stories and lessons from prominent figures in the design community, this book examines the good, the bad, and the ugly of feedback. You'll come away with tips, actionable insights, activities, and a cheat sheet for practicing critique as a part of your collaborative process.
This book covers:
Best practices (and anti-patterns) for giving and receiving critique
Cultural aspects that influence your ability to critique constructively
When, how much, and how often to use critique in the creative process
Facilitation techniques for making critiques timely and more effective
Strategies for dealing with difficult people and challenging situations