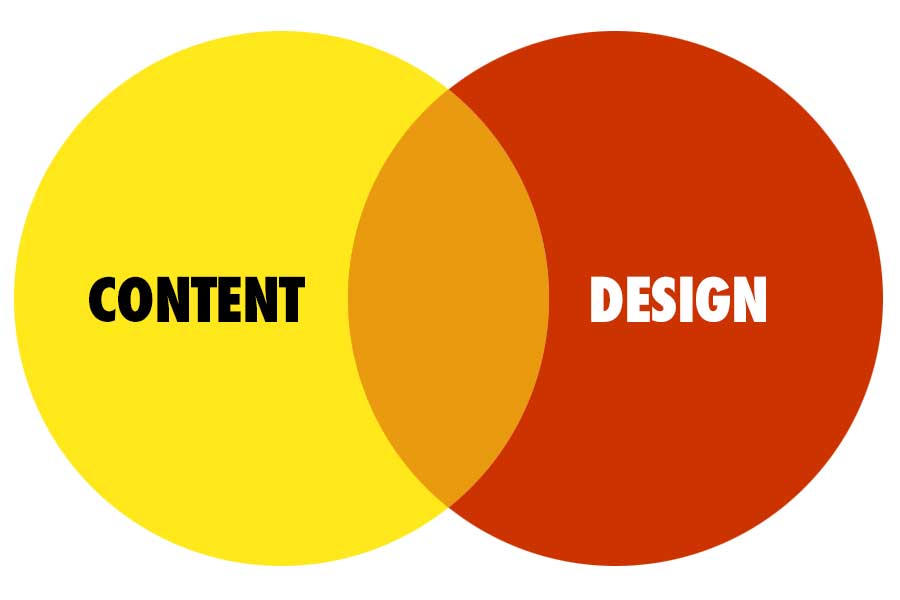 Historically, design and content have been created separately and considered different tasks. Design elements were crafted and put into place. Content writers then sent over the content for it to be placed into the design by a skilled and hopefully artistic designer.
Times Have Changed
In a consumer and user-driven Internet, UX must be the overriding concern, and everything that goes on a website, and even behind the scenes, must be considered content of some sort. And what we used to call content is now expanded. It encompasses everything a user sees or reads and how s/he sees or reads it.
Content, then, includes everything the user does not see or read but still interacts with. What makes those links work well? What makes load time fast?
Users do not separate design and content in their UX – it is all one in their eyes. And if this is their perspective it should be ours too – content is not king, the user is.
Think about it. We all know that the user wants content that is informative, clear, brief, and engaging, whether that is in text or visual form. But distribution of that content is a design task. If we think about content as the "what" and design as the "how," then we are closer to providing a much more effective UX. And effective UX is what captures the visitor and has the potential to turn that visitor into a concrete lead.
Questions to Ask
To turn visitors into leads, we need to be asking:
What does the visitor want?
What does the visitor need?
What will the visitor need in the future?
How can we best show that we have what a visitor wants and needs?
When we have answered these questions, then content can be created that will engage and bring that visitor into the sales funnel as a lead.
Translating All of This To Current Content Trends
If a business has a clear picture of its demographic – its problems, pain points, needs, and wants – then it knows the content that must be presented. It must demonstrate that there is value and benefit and problem solutions with its product or service.
The way that content is presented, then, becomes an issue of UX – giving that user such a great experience while absorbing the content that s/he is convinced that this is the place to be to get his/her needs met.
This is a tough job today. Users want their content fast and in easily understood formats; they want to be educated and entertained; they want it on any device they decide to use; and once they decide to provide personal information to become a lead, they want to do that in an easy and secure environment.
Here are some content trends that are proving successful in enhancing UX and boosting lead generation.
Images – Even Full Width
Whether it's an explanation video or a still image of a person with a soft ambient background, a large image will attract attention of a visitor. People like to see other people. Once you have their attention, you can speak to the value and benefit to them of your product or service. Some content designs focus on people with the same problems and issues that a visitor has. Here is an example from Basecamp – seller of project management software.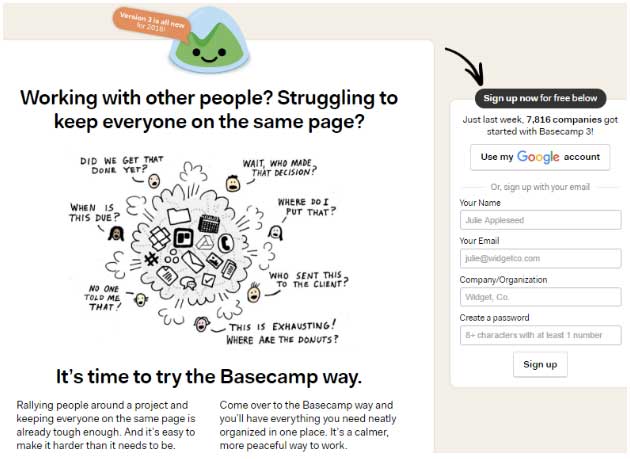 The people are caricatures, but they are all expressing pain points of multiple people working on a project together. A project manager will totally relate to this and could easily join the 7,816 companies that got on board just last week, by signing up for a free trial.
Split-Screen Layouts to Segment Audience for conversions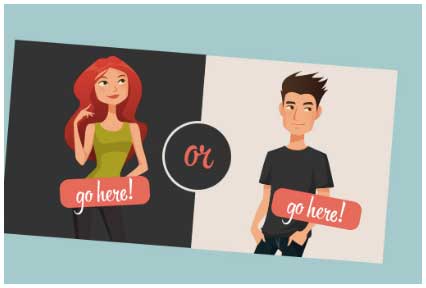 (source)
Split-screen layouts are nothing new. However, they should be used to segment out visitors, based upon their individual want and needs. Once you do this and get an email address, that visitor can be the recipient of targeted emails which focus on his/her specific pain points. Split screens can be anywhere – on social media with links to multiple landing pages or on the site itself with those same links. Remember, users don't want to have to search all over a site to find what they are looking for. You have to anticipate the multiple solutions that your demographic may want and get those segmented out.
Personalization in content is important to today's consumer.
Prioritizing the Navigation
There are certain pages you want your visitor to navigate to. These are the pages that are the lead magnets – where there are offers and CTA's that will result in your getting an email address. You may have a lot of other links, and those can be more hidden and be placed on a separate menu.
If you give visitors too many options, they are far less likely to convert. And once they do get to a conversion page, be certain that button stands out and has a single message – again, you do not want to confuse.
Minimal Content on Lead Capture Pages
You will have a far better chance of getting conversion if you have as little content as possible on your lead pages and ask the visitor to do only one thing – get the valuable benefit. If you are using an opt-in form, ask for minimal information – fist name and email address only, if possible. The more you ask for, the less people trust you.
Video
Probably the biggest lead magnet on the web today. From explainer to "how to" videos that are entertaining and educational, people love them. And if there is a strong call to action within that video, engaged viewers are more likely to convert. Dollar Shave club has a video on its web page that explains it subscription razor delivery product and service, in an entertaining and humorous way. Once the video is over, right next to it is a big CTA button that says "Do It."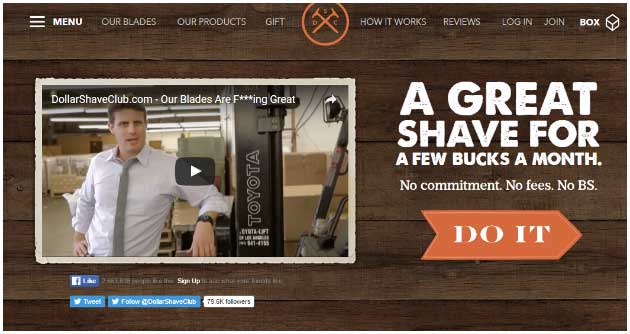 Although the video explains the service, the narrator spends a lot of time focused on the benefits of the shave club – no more running out of razors, the convenience of having razors delivered to your mailbox once a month, no more trying to remember to pick up razors at the store. Many problems solved for a customer with a fun UX. And there is a higher level of trust when a video presents content.
About That Blog
Are blogs still important in this "give me what I need fast" Internet world? Yes, they are, if they are crafted well, with options for converting placed right within that content. Content writers must be certain that there are great headlines, engaging content, lots of visuals, and plenty of sub-titles that break that content up. Value must be offered. How that blog is laid out is a design task. Again, designer and content writer must mesh their efforts for the best UX possible. A good rule for blog posts? Never use words when you can use visuals.
A word about SEO here: business blog have been a major part of SEO strategies. And they will continue to be yet for a while at least. However, given that many are turning to personal assistants like Siri and Cortana, the entire SEO "world" is in the process of disruption. It will be important for designers and content marketers to explore how a business can be "found" by these assistants.
Many Devices
From desktops, to laptops, to tablets, to phones, and even to wearables, content has to be delivered to all. And, wherever a visitor may be in the process of exploring, providing that lead, or purchasing, they must be able to pick up where they left off when they move to another device.
Accessing apps is also fast becoming the desired way to access a company/business, especially on the part of millennials – the biggest shopping demographic today. Designing an app as opposed to a mobile-friendly website may well be "in the cards" for a better UX.
Things in the realm of marketing are changing rapidly. And savvy consumers are looking for experiences as they search for products and services. Focusing on these seven tips will provide better user experiences; and better user experience mean far better chances for getting those leads.