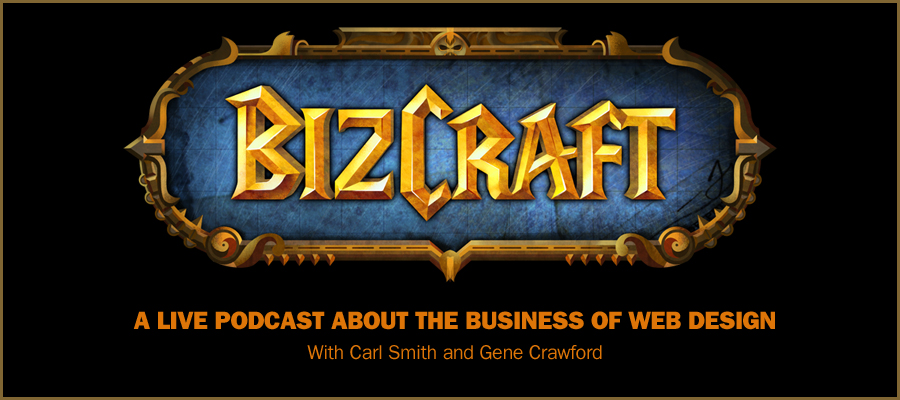 Play or Download this Episode
Download MP3 (41 MB / 00:48:44)
Subscribe to the Show
iTunes / RSS feed / Get Email Updates
About the Show
This is BizCraft, the podcast about the business side of web design, recorded live almost every two weeks. Your hosts are Carl Smith (@carlsmith) of nGen Works and Gene Crawford (@genecrawford) of UnmatchedStyle.
In this Episode of BizCraft we answer a listener question, we discuss sustainability and how not to be a jerk doing it.
We had a follow up question from Harry O'Connor who recently posted to us "again"… on the show before last show's post.
TLDR:
Main question here is about "sustainability" of the services company/web design shop.
Actually I have some further points/questions which maybe you can discuss? don't worry if not, but I think they are relevant, certainly to me anyway.

So our company, Voodoochilli, is based in a very small city (70K people I think) but we are very well known locally, and get plenty of work and are rarely quiet. I had an enquiry today from a potential client who is unhappy with one of our competitors. They have been locked into a 3 year contract with them with no access to the CMS which is built, but only used by the web dev team. This really surprised me, because we always build in a CMS for the client and we don't lock clients into contracts, especially clients like this small charity that is trying to make the world a better place. But it seems some, if not all of our competitors are doing this in order to make a profit. Maybe this is standard practice and I just assumed otherwise?

So this got me thinking – what makes us sustainable? Clearly locking your clients into a contract is sustainable over the duration of the contract as you are getting paid over the time, sometimes without doing any work. What we try to do is satisfy the client's needs so that they will refer us to other clients or will want more work done later – to retain them not forcibly, but because they want to stay, you know, to be good to them. So I think all of this is all very noble, but from a business point of view I do see the benefits of limiting access to a CMS and forcing a maintenance contract, although ethically I'm not sure it is something I would consider.

So I guess my question is, where do you find the balance between being the good guy and being the sociopathic money making business machine? Is there a happy middle place? We are a small business and we discount for charities, do pro bono work, offer free advice etc, and we do ok, but many of our competitors are pretty shrewd business types (that is being polite) that charge more, care less and certainly seem to be making more money. How can we achieve more without being bad people, or is that simply not possible? Are perhaps we trying too hard to be nice, after all, this is business?

My last question – I promise, is, how do I find out what my competitors are charging? I have had "clients" turn out to be just competitors in the past, asking for quotes etc. Is there a good way to find out without this duplicity? Straight up asking your clients "what did they charge you?" seems a bit rude somehow.

Sorry if this turned into a bit of a diatribe/rant, but I literally just replied to a client and so it got me thinking and I'd certainly love to hear your thoughts on it. Thanks again!
End of the year stuff:
Performance Reviews
Bonuses
Taxes
Holiday Hours
First Week Back after the Holidays
Etc…
Carl's complaint about "future Carl"; this is a tough time of year, the end of it that is.
How important are reviews; end of year reviews, quarterly reviews, real time reviews?
How do you handle reviews. Big companies vs. small companies.
What you think you're saying vs. what the employee actually hears.
How a "360 review" actually works/goes down.
Greg Hoy's 360 review post: My Employees Reviewed me, and I Kind of Suck
The "no sandwich" vs. the "shit sandwich"
Beers During The Show
Gene: NonChalant Blonde IPA Ardwolf
Carl: Dale's Pale Ale (Can)