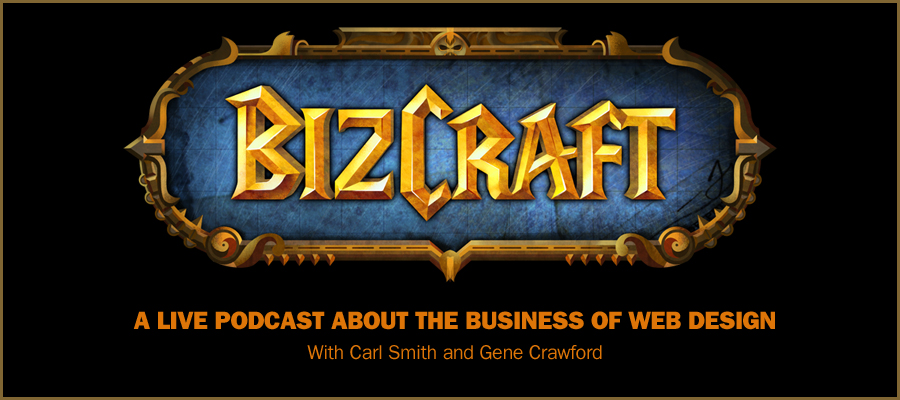 Play or Download this Episode

Download MP3 (50.84 MB / 00:37:01)
Subscribe to the Show
iTunes / RSS feed / Get Email Updates
We are now also syndicated on Stitcher.
About the Show
This is BizCraft, the podcast about the business side of web design, recorded live almost every two weeks. Your hosts are Carl Smith (@carlsmith) of nGen Works and Gene Crawford (@genecrawford) of UnmatchedStyle.
Episode Overview
In this episode of BizCraft Carl and Gene talk with the fine gentlemen of The Dirt podcast about the death of originality in web design, commoditization of the low end of our market, the actual starting time of beer 'o' clock in Florida, and how our profession has responded to a proliferation of high quality and cheap design options.
Show Flow:
The Death of Original Design
Topics we discussed:
The Death of Original Design… and the rise of the theme-based CMS
Customer building:
Squarespace, Shopify, Wix, WordPress.org
Is a templated & unfocused site better than no site at all?
In-house building
WordPress, Drupal, Shopify (again)
Frameworks: Foundation/Bootstrap
How does this affect the business side of things?
Can an agency compete with a low-cost product like Squarespace?
Agencies have to know the theming systems
How commoditized is Web Design? Is custom design dying in favor of creating products that accomplish the same task?
Are we focusing too much on speed?
Do teams want to work on these?
How do you balance profits with culture as margins shrink?
The Dirt Show Information
The Dirt is a podcast from @freshtilledsoil about the Web, UX and Tech hosted by 3 superheroes: @csskarma, @stevehickeydsgn & @markgrambau
Twitter: @thedirtshow
Web: http://freshtilledsoil.com/thedirt
Drinks at end of show:
Dangit, we forgot to mention them again… we were totally having beers, but derp…