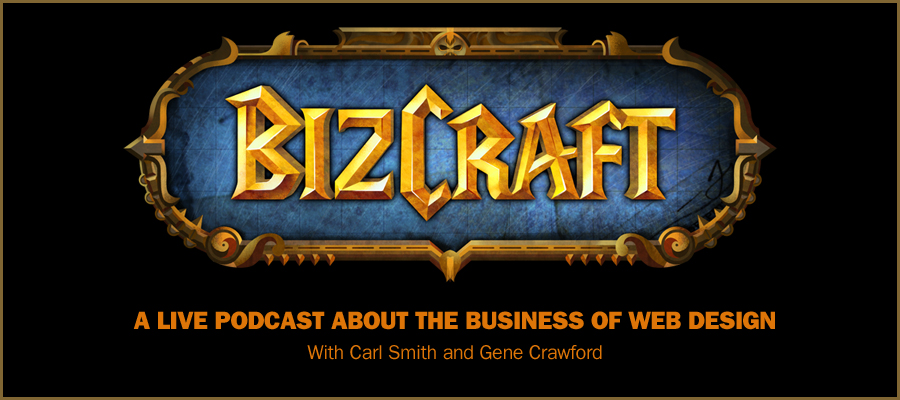 Play or Download this Episode (Recorded live on 03/14/2013)
Download MP3 (58.44 MB / 01:03:50)
Subscribe to the Show
iTunes / RSS feed / Get Email Updates
About the Show
This is BizCraft, the podcast about the business side of web design, recorded live almost every two weeks. Your hosts are Carl Smith (@carlsmith) of nGen Works and Gene Crawford (@genecrawford) of UnmatchedStyle.
We are joined by Greg Storey @Brilliantcrank, President and Captain of Happy Cog.
based in their Austin, Texas office, in this episode of BizCraft. We tried to give him a hard time, but he's a pro.
Episode Overview
Here's a little bit on Mr. Storey: In 2005, Greg started his own studio Airbag Industries, which grew to eight employees and a number of strategic partners in less than four years. In 2009, Jeffrey Zeldman and Greg Hoy approached Greg Storey with a plan to merge his company with Happy Cog. The rest as they say is history, or happening now as it is…
For this show we went through a series of questions with Greg, here they are below (pretty much in this order):
Most of us know you from Happy Cog, how did you get here? What other jobs, companies were you part of?
Some of us old timers remember Airbag. Why did you choose that name?
What were the best things about starting Airbag?
How did you scale in the early days?
Why use contractors versus hiring?
When did you decide to hire your first employee?
What was your worst hiring decision?
What unexpected challenges have you faced?
How do you deal with the anxiety of running a company?
What made you decide to shift from Airbag to Happy Cog?
Changes in being the president of Happy Cog vs. Airbag?
Have you ever offered wine to a rich lumberjack in a posh bar full of cougars and real estate jerks?
Beers from the end of the show
Gene: Samuel Adams Double Agent IPL
Carl: Dale's Pale Ale
Greg Storey: Hops 'n Grain Alt-Eration
Give us a review?
If you like the show, heck even if you hate the show, how about tell us about it in iTunes? It helps exposure for the show a lot! We'll love you for it!