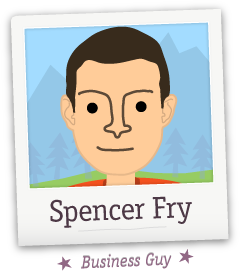 Spencer Fry of Carbonmade was gracious enough to take time out of his busy schedule to answer a few questions I had for him about his business, and they've been plenty busy lately with the relaunch of their flagship website carbonmade.com.
What is your company called and what do you do?
My company is called Carbonmade and we help creative people display their work online in a simple way. We have over 200,000 members consisting of photographers, web designers, fashion designers, concept artists, and lots more. You can see a more complete list of the types of people that use Carbonmade on our portfolios listing.
 
What was the "big bang" that lead you to start your company?
My business partner and Carbonmade's designer, Dave Gorum, created it as an easy way for him to display and manage his online portfolio. After a few months his designer friends asked him if he'd share the tool with them. So with Jason Nelson, my other business partner, they built Carbonmade out a bit and created a sign up form and the word began to spread.
 
What makes your product or service stand out in the crowd?
I think what makes Carbonmade special is that it's such an easy tool to use, displays your work very well without getting in the way, and has a beautiful aesthetic. All of our design decisions are made with simplicity and ease-of-use in mind.
 
What was the single biggest hurdle to getting your company launched?
We were running a design-consulting firm when Carbonmade was first built back in the day as a little side project. We never really had a big hurdle to get over as we just allowed things to grow naturally while we were still taking on consulting gigs. After Carbonmade had been out for a few years, we were able to stop consulting work altogether and focus on Carbonmade full-time and we haven't looked back since.
 
What has been the best method or tactic for marketing your company?
I think the best tactic for marketing your company is by providing excellent customer service and making a great product that people will talk about. If you do these two things exceptionally well then you'll start to grow a loyal following and the word will spread. Advertising is something you'll want to delay as long as possible (money is tight in the beginning). But it all depends on what type of company you're trying to create. Some need advertising to jumpstart things.
 
What advice can you give for new entrepreneurs who are gearing up to produce their big idea?
My advice would be to come up with a good idea and execute really well on it. A lot of people say everything is in the idea, but I think that execution is a lot more important. If you can't execute on a great idea then you'll never get anywhere. Besides execution, I'd recommend focusing on simplicity in your product. Avoid feature creep at all costs and think more about stripping out features than adding in new ones. Carbonmade has far fewer features than other portfolio apps out there and that's a big thing that separates us from the pack.
 
Who is your favorite musical artist (or What musical artist are you listening to the most right now?)
I have a few, but I'd be remiss if I wasn't to mention a great new band named Wakey!Wakey! who recently released their new album Almost Everything I Wish I'd Said The Last Time I Saw You.. – I'm actually listening to their music right now while I type this. Wakey!Wakey! is under my friend Wesley Verhoeve's record label Family Records. Another great band of theirs is Pearl and the Beard. Both bands play a lot in New York City if you live in and around here.
About Carbonmade:
In 2007, Spencer joined the team at Carbonmade and started spending more than their off hours tinkering with Carbonmade and began working full-time and haven't looked back since. With feedback from their ever-growing community and lots of nerdy elbow grease, it has become something that they are quite proud of.
Be sure to check out Spencer's blog and follow him on twitter @spencerfry