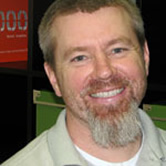 Andy Rutledge is Principal and chief design strategist for Unit Interactive, LLC. He is also a long time design writer that i've followed for a while now, which you can read some very insightful articles on his blog Design View and follow him on twitter @andyrutledge.
How or where do you find inspiration?
No idea. Seriously, it's there or it's not and sometimes it even seems to help, but I don't go in search of inspiration for my work. Inspiration is an inconsistent gift, and shouldn't be a requirement for design work. When writing music, poetry, or even essays, I find that strong emotions tend to inspire better work, so the things that caused those emotions—good or bad—tend to bring a sort of inspiration. But I generally hold that things that inspire us simply cause us to tap into capacities that we inherently possess but in most cases have trouble accessing.
Who is the biggest influence on your work right now?
The people I work with. I find that having continual exposure to the excellent work produced by smart people, especially when I'm privy to their thought processes involved in that work, serves as a constant reminder to up my game. Probably the best thing that Angela (my business partner) and I did was hire folks who are smarter than us and then saddle them with lots of responsibility. They rise the occasion. Being around smart people doing great work can have a wonderful influence.
Where are your "design roots"? Print or Web?
I was going to say, "Definitely web," as that's where I started with anything resembling designing information or interfaces and I don't have a traditional print design background. However, like a lot of designers I've been an artist most of my life and the initial steps down that road were taken with pencil, pastels, brush, charcoal, and paper. In fact, I consider my piano as much a component of my design roots as anything else, since playing and composing is a clear effort at designing notes, themes, and patterns in an effort at communication…and it follows all of the same rules of artistry. So web, paper, wood? Ha, hard to say.
How important is it to know the history of design?
In some ways I expect the answer to that must vary with the individual and his/her inclinations and activities. However, there are components of design history that can greatly impact the quality of design work. For instance, this fact is reflected in the history of typography, and a designer gains much by knowing how various fonts were created and for what specific purposes. The more I learn about typography and its history the more flaws in my past designs are revealed. Knowing the history of design will not make someone a good designer, but I think smart people can agree that knowledge of history is perhaps the most important knowledge one can possess, regardless of specific disciplines.
Serif or Sans?
Of course this depends. Everything in design depends. That's why we need designers to discriminate and make choices.
Do you code and design? Are you a "Hybrid"?
Both are required. And no, not a hybrid at all; by now I'm sure everyone is familiar with the idea long supported by the most competent web designers on earth that competent web design requires markup and design. And it's perfectly fine that there is disagreement on this point among those who consider themselves web designers. Contrast is good for discerning quality.
What's your favorite part of the creative process?
The part when the value of the work is revealed by the results. For a designer, surely there is nothing so satisfying and creativity-confirming as seeing that your work has garnered excellent results (lots of engagement, lots of user satisfaction, increased sales, stronger brand equity, etc…) balanced against what you were charged to accomplish. It's even better when the client, entirely satisfied, returns with more projects and even greater trust in your abilities. The process of creation is fun, too, but burdens of responsibility and fears of letting the client down tend to put the kibosh on the sort of pure creative abandon enjoyed by mere artists.
What makes your creative process different from everybody else?
Very little, I suppose. I'm not really up on how everybody else's creative process goes. Though, I must mention that I find that creativity often has very little to do with good design or its process. Craft and fundamental competence beats creativity every time.
What do you see as the single biggest shift in the evolution of design over the past 5 years?
I think perhaps it is the imperative of web design to elegantly encompass an increasing number of contexts, devices, interaction paradigms, display resolutions, etc… There was a time not too long ago when web design was technically complicated little more than how it had to handle different screen resolutions and browsers. Those complications are now multiplied exponentially and to be worthy of most clients these days your competence, or that of your team, must be quite broad indeed. I don't see the environment stabilizing anytime soon so very little convergence is likely in the near future.
What's the difference between User Experience and User Interface design?
Well, the one defines or influences the other, surely. Designing the interface is design of the visual structures. Designing the experience involves all of the design disciplines (including the IA disciplines) employed toward specific and general goals in the context of the myriad constraints. If you're designing interfaces or anything else, you are designing experiences whether you know it or not. And there are many levels and facets of experience. So be prepared to understand all of those facets relevant to your project or enlist the help of someone who does.
What makes one a web design professional?
Competencies aside, a professional deals directly with clients (not through intermediaries), a professional defines the project process (rather than simply adhering to what others decide), a professional has specific standards and unfailingly upholds those standards and uncompromisingly requires that colleagues and clients meet and maintain those standards, a professional gathers and holds to responsibility. The buck stops with the professional. If the buck doesn't stop with you, you're not one.
What are designers/developers doing right (or wrong) in the web 2.0 world?
I'm afraid that the meaning of the term "web 2.0" is lost on me. From a design standpoint, there's quite a lot being done right and wrong these days. It's also likely that what is considered wrong now may in the future be revealed to be right; and vice-versa. So I'm not sure I'm qualified to say.
What's your favorite flavor of design or development programs/languages?
Besides pen and paper, my design production tool is Fireworks. It's made for the web (unlike Ps). I still use Dreamweaver for writing my markup because it's what I started with and I'm used to the file/code tools. I feel obliged to mention that any tool is fine; tools don't make the designer or developer.
What is your favorite book?
That's tough. It might be "The Lord of the Rings," by Tolkien. I've read it literally dozens of times. Never tire of the story, the themes, the characters, or the rich historical records (more books!) that complement it.
What is your favorite movie?
Lawrence of Arabia.
Who is your favorite musical artist (or What musical artist are you listening to the most right now?)
That's a toughie, too. I'm kind of a music glutton (though I don't listen to much while I work). Lately I've been on a Hans Zimmer kick. His movie soundtracks are among the richest and most compelling I've ever heard (Gladiator, Pirates of the Caribbean, Last Samurai, Black Hawk Down, etc…). But I regularly enjoy everything from AC/DC to Avalon to Jamiroquai.
Bio from unitinteractive.com:
Andy Rutledge is a designer, author, and speaker, and his articles on design and professionalism are widely read in the design and business communities. Andy was formerly creative director for a Dallas area interactive agency, where he helped to redefine the agency's clientele and place in the marketing business community. While there, he worked on projects and winning bids for clients such as RadioShack, Maggiano's, Worldwide Express, The Kimbell Art Museum, and more.