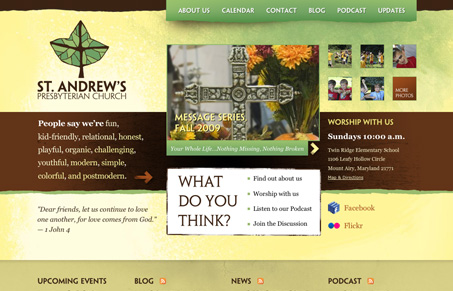 Submitted by Ian Soper, @imsoper.
Presbyterian Church in Maryland. Site features a custom WordPress theme, Flickr and Google calendar Integration.

I designed the site to a) work well with their new logo/branding, have a creative and organic, and fun feel, but still, with slightly more traditional or typography.
This website has some of the best vertical rhythm i've seen in a while. I love the way the content and elements just "unfold" to you down the page. It has a really grounded feel and very open at the same time, really great texture. My favorite part (and I know i'm boring) is the footer area, with all the informational link areas, like podcast and news, etc… I just really enjoyed this design.