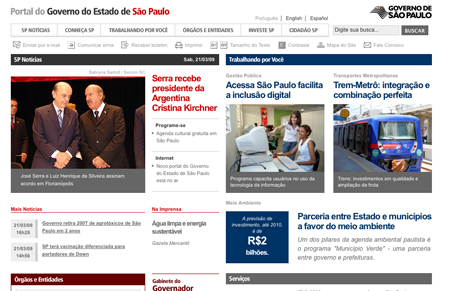 São Paulo State Government submitted by Adriano Ribeiro, here's some further insight into the website design:
Jay asked:
This is a great site, can you give us some more information on the structure and how you built the site, and maybe what it was like getting a government entity willing to go along with a clean, simple design like this?
Adriano replied:
The Official Portal of the Government of the State of São Paulo, has new government actions and services for the citizens and information about companies and people directly related to it.

The project took 6 months and was developed by A2 Comunicação (http://www.a2comunicacao.com.br) with a team of 8 developers. We use a proprietary CMS tool to fulfill all our client's demands and be able to validate the accessibility of all pages.

There were many other small projects developed for the government, and they helped us show them that a clean design can make the access to information by the citizen a lot more easy.
We love this sort of back and forth! Please share more background into your design decisions when you submit your websites so we can share it.