Gyroscope is an app that I definitely want for my personal life (to track absolutely everything I do) – but their website (out of San Francisco) is pretty good on its own too. Think the 3d breakapart / breakout .js that some developers are using is pretty cool (used here after you "Learn More").
I went ahead and signed up – I'm on the Waitlist now – but very interested to see how it works with my info. Also, I now know that I can tell people that I'm 41 and a little over one fifth years old – or 41.266432275.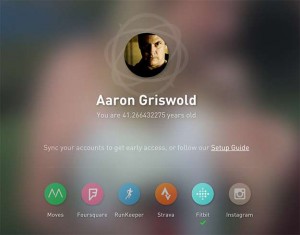 Also, it would be good to checkout one of the sample beta profiles, such as Mahdi Yusuf the software engineer for Gyroscope.
Site Found via David Walsh's tweet:
This website's effects are incredible: https://t.co/gqwoc8exc6 Haven't seen anything that well done in a long time.

— David Walsh (@davidwalshblog) July 8, 2015