It's breakfast time in Nashville, Tennessee where we're putting BDConf (www.bdconf.com) on this week. we just finished setting up, and I'm watching the dude get the breakfast ready for the attendees… and then I see this site in our inbox – Denny's. We have one in Columbia, but I've spent a couple of late nights, early mornings there before and like the food.
The site is pretty darn good itself. I'm on a slower connection right now, so some of the video backgrounds and preloading looks funky – but once it's cached (again, not the site – more on the crappy internet here), it's pretty spectacular. Really like the combo of vertical nav on the left, and then the additional "pages" on the right (after you scroll past the fold – see image below) – think they are trying to get close to thumbing through a physical menu while at the store.
Enjoy – gonna go eat now.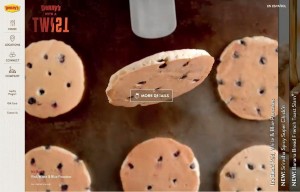 @dennysdiner