Love the simplicity of this design – plus this is the second site I've seen recently that has images in each page that are activated by hovering on relative links. The links to the Work show large background photos when hovered upon. It's cool design that's fairly easy to implement – I think you'll see more of this type of web design this year.
alternate screenshot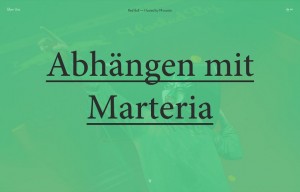 From the Designer: We create digital innovation. By instinct. We are a Berlin based digital design and development office, out to create what we call virtual brand experiences. As a digital generalist, we operate on (and between) all relevant online platforms. Since 2010 our work originates in a perfect synergy of design and development.
Submitted by: Tim Herzog,  Martin Heßmann
Somewhere: @APEUNIT
Role: Designer