Tera Simon
Atlantic BT | @tcaldsimon
This is a quick recap of last year's ConvergeSE talk that Tera gave. She's back again this year to bring more insight into the role of Digital Project Manager. We got a sneak peek at Front End Conference earlier this month and I have to tell you, it's chock full of great stuff. Also, Tera is a recent addition to the UMS Wrecking Crew!
Be sure to join us and Tera at this year's ConvergeSE in Columbia, SC.
The State of the State: the Digital Transformation of NC.gov
Most organizations have service agreements. NC.gov has a mandate: to serve every citizen, non-profit and business in the State of North Carolina. NC.gov was struggling to meet these demands. While all the information one might need was available somewhere within NC.gov's network of agency websites, finding it was challenging. NC.gov problem was a crisis of usability. As a result, many visitors were frustrated and opted to call agency offices directly, which resulted in slower response times and even more frustration. NC.gov was also on the search for an internal transformation within the state that may change how agencies work together, and how they think about their content and the services they provide to the public. NC.gov needed a transformation. A transformation in design, user experience and technology infrastructure that would better serve its audience.
This is a discussion of how Atlantic BT solved a tough digital problem to bring about North Carolina's Digital Transformation. We were asked to create a unified look and feel, that shows coordination across the state, will provide better customer service and predictable interface. Up-to-date, robust functionality, accessibility for all devices and for all audiences, and easy-to-maintain websites were also key to this project. I'll provide you with a high level project overview, the problems that NC.gov faced and the methods and best practices that Atlantic BT brought to the table to create a digital transformation. The quest became known as the digital commons because we are working together to make each of the government sites highly informative, useful, and easy to use.
About Tera: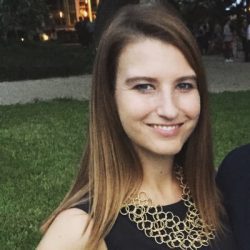 Fondly known as a Southern Belle with Yankee flair, Tera Simon is currently the Director of Client Engagement for Atlantic BT in Raleigh, NC with over a decade of Project Management experience, Tera has helped define, document and implement process within ABT. Her attention to detail and grasp of usability empower her to see projects evolve on schedule and within scope, while achieving the high level of quality that she is recognized for delivering. Tera has the ability to combine traditional graphic design awareness and new media technologies with classic sensibilities, and apply this not just to her clients' projects, but also to her team.