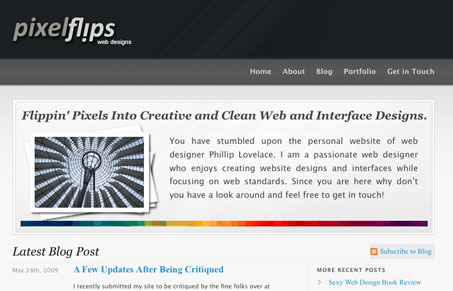 Submitted by Phillip Lovelace, @pixelflips.
After recently updating my site I thought I would give submitting my site another shot. The design is very minimal and the site is used to showcase myself and the projects have been involved with. I also recently added a blog where I hope to share ideas and web design related interests.
I'm really liking the work done on this site, he's recently had his site critiqued and reworked a bit. I think this is a really nice looking site design, with good spacing and visual rhythm to the layout. That visual rhythm is really important when visitors scan the page and seek out things to read. The coloring and typography is good throughout the site. The one thing that sticks out to me is the main 'block' of information at the top of the home page. The image used along with the copy is really out of context to me. I don't have an answer, maybe it's that a work sample or something would fit there, or a testimonial from a client but I need more context for the image. That section is very important visually and it really sets the tone for the rest of the site.