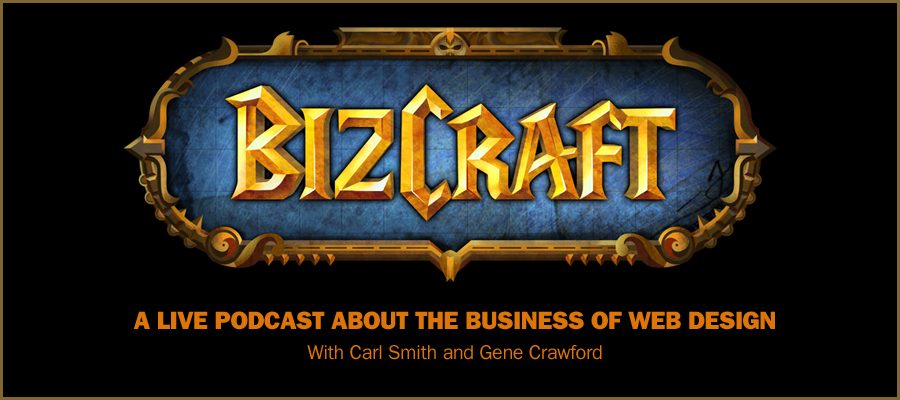 Play or Download this Episode

Download MP3 (46.12 MB / 00:33:35)
Subscribe to the Show
iTunes / RSS feed / Get Email Updates
We are now also syndicated on Stitcher.
About the Show
This is BizCraft, the podcast about the business side of web design, recorded live almost every two weeks. Your hosts are Carl Smith (@carlsmith) of nGen Works and Gene Crawford (@genecrawford) of UnmatchedStyle.
Episode Overview
In this episode of BizCraft Carl and Gene talk about doing your best work and being a great person and dealing with people you work with.
Show Flow:
Is it possible to be great at your job/work and also be great at relationships/family/good friend?
How do you choose what to spend your time on?
"People think focus means saying yes to the thing you've got to focus on. But that's not what it means at all. It means saying no to the hundred other good ideas that there are. You have to pick carefully. I'm actually as proud of the things we haven't done as the things I have done." (Steve Jobs)
"We've replaced diligence, perseverance, and conflict-resolution, with discontent, arrogance, and entitlement. Work is hard, and hard work is even harder. Jobs can and should be fun, but if we chase fun at all costs, it reveals our misguided interpretation of what work really is."
Don't leave when things get tough! Teehen & Lax turning 11 in 2013
How to Deal With the Brilliant Jerks You Work With
Discuss: people types from the article. Then hiring for experience or specific skills.
Who do you hold the bus for? Who is the Dennis Rodman on your team?
Where @ next?


Digital PM Summit Oct 6th & 7th in Austin, TX – dpm2014.com


Breaking Development: Beyond the Desktop
https://bdconf.com
ConvergeFL Nov 7-8th
ConvergeRVA Oct 10th
Drinks at end of show:
Gene: Sierra Nevada Anchor Steam
Carl: 3 Daughters (St. Petersburg)