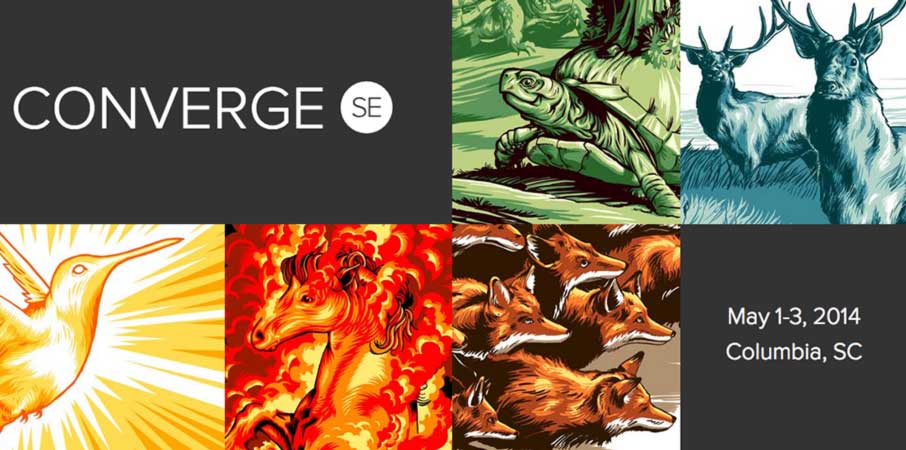 We are so excited to announce the 2014 lineup for ConvergeSE (May 1-3 in Columbia, SC). This year just might be the best one yet and we hope to see you in Columbia in May for it.
Tickets are on sale Friday (we usually sell out pretty fast!)
The Lineup (So far…)
Get full information on each speaker from the speakers' page.
Mark Divine
SealFit, USCrossFit, NavySeals.com
Ethan Marcotte
Responsive Web Design
Mark Boulton
Designer, 5 Simple Steps
Chris Coyier
CSS-Tricks.com, Codepen.io
Sam Kapila
Web Design Educator
Carl Smith
nGen Works
Aaron Draplin
Draplin Design
James White
Signalnoise Studio
Jeff Sheldon
Ugmonk
Jina Bolton
Salesforce.com
Jonathan Snook
Shopify
Paul Armstrong
Choremonster
Jonathan LeBlanc
PayPal
Jenn Lukas
Web Designer
JD Graffam
Simple Focus
Moldover
Musician
Josh Higgins
Facebook
Joshua Smith
Hydro74
Patrick Fulton
Bearded
Clarissa Peterson
Web Designer
Fabio Carneiro
Mailchimp
Kendall Totten
Drupal Theming Manager
Jed Schneider
Modeset
Wesley Hales
Web Designer
Andy Dahley
Google
Jacob Surber
Adobe
Mike Buzzard
Google
Jared Ponchot
Lullabot
Kerry Crawford
Simple Focus
Rob Harr
Spark Box
Jennifer Dary
Plucky
Hiten Shah
KissMetrics
Ryal Curtis
BlueCross
Justin Gitlin
Modeset
Dan Tello
Viget
Nicole Cendrowski
Sandler Training
J Cornelius
Nine Labs
Ben Callahan
Sparkbox
Giovanni DiFeterici
UnmatchedStyle
Bryce Bigger
The Bigger Design
Patrick McNeely
Simple Focus
Casey Zumwalt
Simple Focus
Brian Cendrowski
UntamedBeer.com
Dr. Scott Padgett
Musical Stylings
Workshops
There are also some pretty amazing full day workshops at ConvergeSE this year.
Build Responsively: Responsive Web Design Workshop
By the Sparkbox Team
Build Right: Front End Tooling
By the Sparkbox Team
SMACSS Workshop: Scalable and Modular Architecture for CSS
By Jonathan Snook
Workup: Hands-on Creative Process Workshop
By the Simple Focus Team