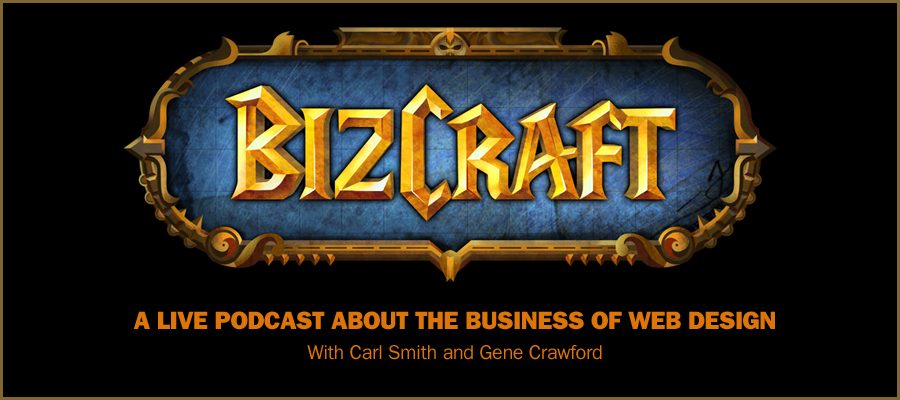 Play or Download this Episode (Recorded on 12/13/2013)
Download MP3 (38 MB / 00:41:33)
Subscribe to the Show
iTunes / RSS feed / Get Email Updates
We are now also syndicated on Stitcher.
About the Show
This is BizCraft, the podcast about the business side of web design, recorded live almost every two weeks. Your hosts are Carl Smith (@carlsmith) of nGen Works and Gene Crawford (@genecrawford) of UnmatchedStyle.
Episode Overview
In this episode of BizCraft we discuss different personality types in the workplace and how we utilize contractors to get work done.
We talked about:
Competence and Likability as Keys to Success
We discussed how different types of personalities affect the "team" and stuff.
Do you know who the most valuable people in the organization are, especially in terms of effecting change? It is the lovable fools. They are the social glue that keeps the organization together. They are the people who can socialize ideas, can bring information from one group to another. They provide the lubrication that keeps that organization running smoothly.
Subtopics:
1. How do you hire new employees
2. How do you onboard new employees
3. Mistakes in hiring past employees and how did you get rid of them or get them to fit in better
4. How do you deal with someone who's messing up the team's "chi"
The Silent Subcontractor
We talked about how we use "contractors" with our companies to get work done and maybe some stories about stuff that's happened working with 'em.
Subtopics:
1. How do you handle an NDA for a client when using a contractor
2. How can "work for hire" get complicated when using a contractor
3. How do you pay contractors when they work on an end client project
4. Have you ever been a contractor for a bigger project
5. Ever done "white labeled" work for a larger client (like an agency)
6. Pitfalls of accepting subcontracted work from an agency
7. Differences of contact work for a developer vs. a designer
8. How about putting work in a portfolio/attributes to the designer/dev
Beers from the end of the show
The show wasn't live so we recorded it at like 10am…
Give us a review?
If you like the show, heck even if you hate the show, how about tell us about it in iTunes? It helps exposure for the show a lot! We'll love you for it!