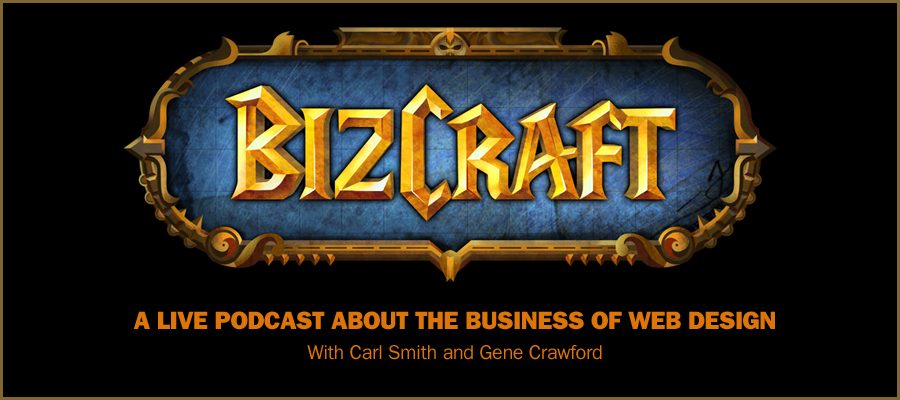 Play or Download this Episode (Recorded on 10/18/2013)
Download MP3 (52.11 MB / 00:56:55)
Subscribe to the Show
iTunes / RSS feed / Get Email Updates
We are now also syndicated on Stitcher.
About the Show
This is BizCraft, the podcast about the business side of web design, recorded live almost every two weeks. Your hosts are Carl Smith (@carlsmith) of nGen Works and Gene Crawford (@genecrawford) of UnmatchedStyle.
Episode Overview
We talked about:
Some client management stuff:
PMs in the new biz process – a must
Clean Slate – don't bring baggage into a new client relationship
Promises? Clarity rules, don't walk away with a shadow of a doubt.
Must Win vs. Checklist clients
Start The Tough Conversations
It's all about leverage
A Simple Guide to Saying No
https://medium.com/the-year-of-the-looking-glass/23ad80bdfbc
So, here's my general strategy for how to say no:
Be honest and direct. A no is a no, and that should be communicated in the first or second sentence and not something that needs to be read between the lines. Talk about what you are prioritizing instead. It doesn't have to be detailed, but it should be true. Few things are ever no in a vacuum, so it tends to be about the tradeoffs, and people get that. If you're even the slightest bit interested in the opportunity but can't pursue it at the moment, mention that the no is for right now. In the future, who knows? Don't prematurely rule out possibilities if you think things might change.
Questions from the Kids
From: Tim Macholz
Hey Gene & Carl,
I'm a partner at a small web shop. We've spent the last few years working for smaller clients designing and building websites,
but after launching them, they tend to flounder due to poor (or zero) ongoing management and optimization. We've recently begun developing a strategy to offer our clients the full package (web design, content strategy, email marketing, SEO, SEM, social, etc.). After trying to tackle some of this ourselves, we've decided we'd rather focus on what we're good at, and bring in outside help for SEO, marketing, etc.
My question is, do you have any thoughts on how far you should take a project? Do you simply provide a product (website, app) and send it off into the hands of the client? And do you have any suggestions for providing these services to clients that don't have the infrastructure to handle those aspects of running an online presence?
Really interested in your approach to the 'stuff' that doesn't quite fall into typical web design, per se.
Love the show. Can't get enough! Thanks!
Working with an SEO or Digital Strategist
By Aaron Mentele of Electric Pulp
http://alistapart.com/article/following-through-with-post-launch-strategy
"It's not uncommon to find ourselves in a competitive bid situation against a much larger agency. The clear advantage they'd have over us was a more complete skill set. Their proposals would detail ongoing services, and ours would detail a product. We'd be characterized as the "boutique design shop," and it was often up to us to be so much cheaper that the client would give us a shot."
Beers from the end of the show
Gene: Samuel Adams Octoberfest
Carl: Nuthin' – he's getting healthy or some crap…
Give us a review?
If you like the show, heck even if you hate the show, how about tell us about it in iTunes? It helps exposure for the show a lot! We'll love you for it!