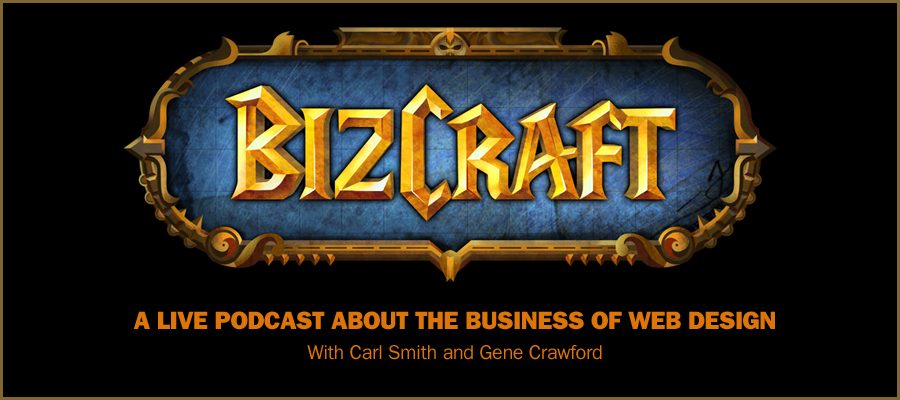 Play or Download this Episode (Recorded on 07/09/2013)
Download MP3 (46.64 MB / 00:50:57)
Subscribe to the Show
iTunes / RSS feed / Get Email Updates
About the Show
This is BizCraft, the podcast about the business side of web design, recorded live almost every two weeks. Your hosts are Carl Smith (@carlsmith) of nGen Works and Gene Crawford (@genecrawford) of UnmatchedStyle.
Episode Overview
We talked about:
Using Terminology from the industry for different uses. Like using "ping" & "bandwidth" & Carl ridicules me about "The princess bride".
Process over People – "the care and feeding of a distributed team".
Gene's story about how distributed isn't working for Period Three.
Start with people who have the psychology of a distributed team built in.
Ways to re-create an in-person office setup online. "People over Pixels".
Multi-local – the company (ngenworks) will help build the community in the areas where people from the distributed teams work. Jax, Portland, etc…
Sidebar: getting people to talk to other people on your team "mangers" vs. you "the boss".
Questions from the Kids:
Chad Warner asks:
Do you recommend that web designers have professional liability insurance? How does a freelancer or small business decide whether they need it? Keep up the excellent show!
Beers from the end of the show
Gene: Dogfish head – Midas Touch
Carl: Loser ain't drinking. He has a Dales Deviant in the fridge…
Give us a review?
If you like the show, heck even if you hate the show, how about tell us about it in iTunes? It helps exposure for the show a lot! We'll love you for it!