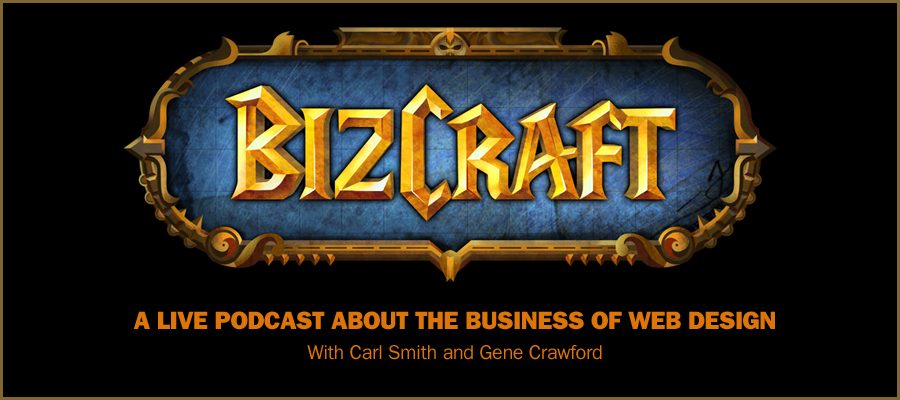 Play or Download this Episode (Recorded live on 04/05/2013)
Download MP3 (52.89 MB / 00:57:46)
Subscribe to the Show
iTunes / RSS feed / Get Email Updates
About the Show
This is BizCraft, the podcast about the business side of web design, recorded live almost every two weeks. Your hosts are Carl Smith (@carlsmith) of nGen Works and Gene Crawford (@genecrawford) of UnmatchedStyle.
Episode Overview
What it's like to use contractors on your projects, how to find them, keep them happy and utilize them properly.
Ways you communicate with your team + contractors. Campfire vs. other means.
How do you make it work? What makes it attractive for people to go and use campfire…
Using surveys and/or weekly check-ins/calls
Conference Stuff – letting go and working with others, Flock & Rally.
Questions:
From: Eileen Webb
Site maintenance! When does a project cross the line from "bugs fixed as part of the original contract" to "these bugs warrant a new contract"? Do you base it on time-since-launch? Time required to fix the bug? If a client finds a bug 8 months after launch that is legitimately your fault, and it will take a full day to fix, can you charge them for it? How can you NOT charge them for it?
(I'm pondering this especially around fixed-price contracts since extra time != extra money.)
For further discussion we got into Code Liability with contractors/staff + Maintenance Agreements.
Beers from the end of the show
Gene: Newcastle Founders Ale
Carl: Bell's Brewery, Two Hearted Ale
Give us a review?
If you like the show, heck even if you hate the show, how about tell us about it in iTunes? It helps exposure for the show a lot! We'll love you for it!