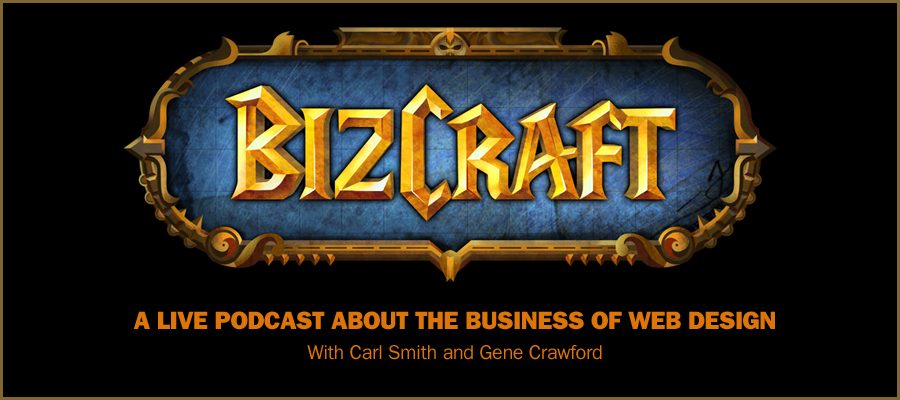 Play or Download this Episode (Recorded live on 06/07/2013)
Download MP3 (49.85 MB / 00:54:27)
Subscribe to the Show
iTunes / RSS feed / Get Email Updates
About the Show
This is BizCraft, the podcast about the business side of web design, recorded live almost every two weeks. Your hosts are Carl Smith (@carlsmith) of nGen Works and Gene Crawford (@genecrawford) of UnmatchedStyle.
Episode Overview
In this episode of BizCraft we discuss how we approach thinking about our business and then go a few rounds with bad client situations, like not getting paid.
Gene and the UMS crew just signed the least for our CoWork: soco-work.com (open by August 1st.)
What is HAPYN? "HAPYN, first things first post"
We dug into the idea of a Minimum Usable Product vs. Minimum Viable Product
We discussed key points of the article Poke Out Your Own Eyes by Austin Church
Do you see yourself as an artist adrift in the business world or a businessperson who sells art?
Do you see yourself as a specialist or a problem-solver?
Are you a vendor or an advisor?
Audio Question by: Martin Nørgaard Gregersen of mrnoedesign.com
Hi Gene & Carl,
Greetings from Europe! Thank you for the helpful and encouraging show! I'm a Danish guy, running a small design-shop in Berlin and I have been collecting a lot of written positive feedback from my clients over the years. Having been granted the rights to use it, how do I present this feedback most effectively? I was wondering whether a testimonial page is too much or if including the feedback with the project-description in my portfolio is too subtle? A third idea was to include them in a presentational video I'm making. What would you recommend? There is an esthetic of modesty in Germany too…
Cheers! (Btw. I'm drinking Weihenstephaner, a wheat beer from a brewery in southern Germany, almost 1000 years old.)
Then we discussed the article Not getting paid by Paul Jarvis
Try to spot bad clients early on
Be clear, as early as possible
Get some when you give some
Always have a contract, even if they are useless
Remain professional, even if they're being assholes
Keep track of everything
Next steps – what to do when the shit hits the fan… Leverage, Legal action, Dirty pool or Let it go
Where can you find us next?
UMS Crew:
Front End Design Conference
ConvergeFL Sept 11-12
ConvergeRVA Oct 11-12
Carl:
Arizona at Owner Camp
UX Mad
Beers from the end of the show
Gene: Samuel Adams Alpine Spring
Carl: Intuition Ale Works I10 Pale Ale
Give us a review?
If you like the show, heck even if you hate the show, how about tell us about it in iTunes? It helps exposure for the show a lot! We'll love you for it!