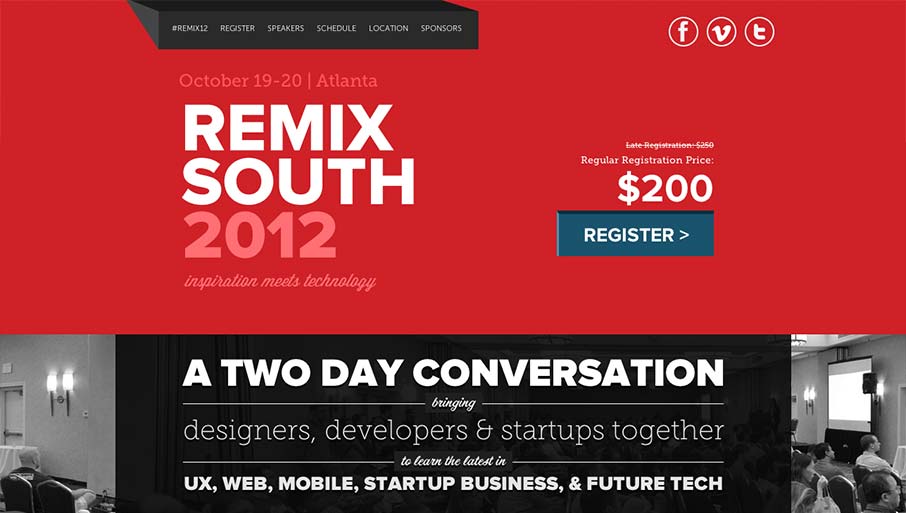 I was sad to miss Remix South last year, but they're back for 2012 and they have several good friends of UnmatchedStyle speaking as well as Giovanni DiFeterici, fellow Editor here at the UMS.
If you haven't heard of it before, I'm excited to introduce you to Remix South 2012, a 2 Day, 5 Tracks, 26 Sessions, 5 Workshops, long learning experience bringing together designers, developers and the startup community to learn the latest in User Experience, Web, Mobile, Startups and Future Tech. It's a really good mix of everything.
This year's round of speakers are skilled experts and experienced leaders who continue to push our industry forward through their body of work. Best of all, they're excited to share it with you.
Here's the lineup as it is now:
Bill Buxton – Microsoft Research (One of the pioneers in Human-Computer Interaction and also Remix South 2012 Keynote Speaker)
Ash Thorp – Creative Director & UI Designer for Hollywood films Prometheus, Total Recall, and more.
David Kung – from Oblong Industries, the company behind bringing Minority Report to life
Stephen Martin – Mailchimp UX Mobile Designer
Eljiah Manor – jQuery specialist, appendTo Senior Architect
Pamela Fox – Coursera Front End Engineer
Sara Summers – Co-Author of Dynamic Prototyping, UX Evangelist at Microsoft
Matt Walker – Designer & Creative Lead for ESPN Fantasy App
Pratik Patel – CTO of TripLingo
Mick Winters – Creative Director at Threespot
Ben Callahan – President of Sparkbox + Build Responsively Workshops
Josh Blake – NUI Designer + Developer for Kinect and Surface, OpenKinect Community Founder
Pamela Fox – Coursera Front End Engineer
Carl Smith – Owner and Founder of nGen Works
J Cornelius – Founder of Nine Labs, President of AWDG, and creator of Web Afternoon
Giovanni DiFeterici – Editor at Unmatchedstyle.com, Illustrator, author of "Web Designer's Workflow"
Shawn Wildermuth – Author of 7 Books, Trainer at Wilderminds, and 9-Time Microsoft MVP
Kes Sampanthar – Director of Media Strategy at Cynergy, TEDx Speaker, Motivational Design
Wesley Hales – Author of HTML5 Architecture and UI Developer at CNN, Founder of Atlanta HTML5 User Group
Dave Malouf – UX & Interaction Designer, Former SCAD Department Head
Jason Alderman – User Experience Lead for Cynergy, Illustrator, Sketch Artist
Warren Moore – iOS App Architect, iPhone and iPad
Rob Tarr – Software Engineer at Sparkbox and Build Responsively Workshops
Blair MacIntyre – Director of Georgia Tech's Augmented Environments Lab
…and they're lining up more I hear.
Remix South is covering everything you can possibly wrap your mind around. Startups. Sketching. Interaction. Motivational and Conceptual Design. Responsive Web Design. HTML5. CSS3. Javascript. iOS. Mobile Design. Gestures. Prototyping. Movies. Minority Report. The Future of Design. The Future of Technology. No matter what design language you speak, no matter what code you write and no matter what your level of expertise is, Remix South is a great launchpad.
Hop on over to remixsouth.com and take a look what the all-star lineup is set to speak about. You'll find that the workshops and sessions on the schedule will help make you bolder, sharper, and savvier about your passion. Get better at what you do every day — or inject a little remix into your skills and spin something new.
Questions, comments, or a squeal of excitement? Tweet them over at @remixsouth, or email them: remixsouth@live.com.
The UnmatchedStyle crew will see you there!
***Bonus: For a special discount for UnmatchedStyle subscribers, use the discount code "UMS@remix" to receive 25% off registration.***
Visit remixsouth.com to register.