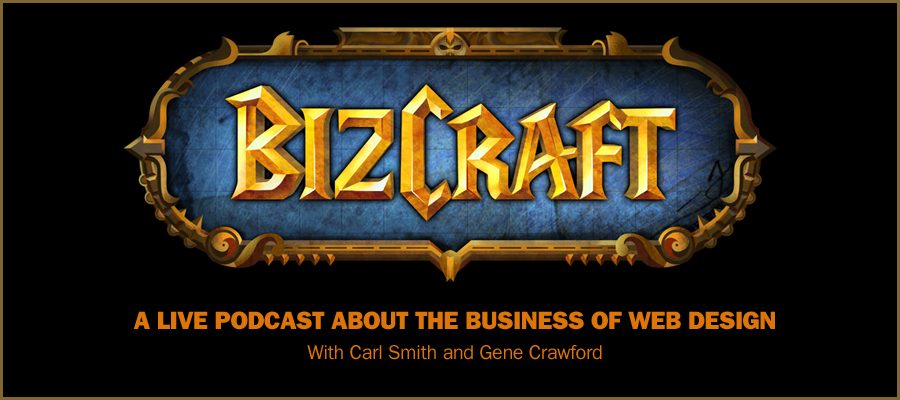 Play or Download this Episode

Download MP3 (45 MB / 00:47:13)
Subscribe to the Show
iTunes / RSS feed / Get Email Updates
We are now also syndicated on Stitcher.
About the Show
This is BizCraft, the podcast about the business side of web design, recorded live almost every two weeks. Your hosts are Carl Smith (@carlsmith) of nGen Works and Gene Crawford (@genecrawford) of UnmatchedStyle.
Episode Overview
This episode of BizCraft is in honor of Johnny Winter, may he RIP.
In this episode of BizCraft we talk about employee perks, how lucky we are to be doing what we're doing as an industry and swapped some failure stories.

Show Flow:
Employee perks, what's good, what's bad – how are they used or abused? [link from show]
"If you can't write code, should you get free lunch?"
Watch out for perks that are for you to not leave… ever… also companies use perks as recruiting tools.
"It's really a privilege to be able to work at a company where we try to treat each other well," Kelman said. "Sometimes you can forget that and just say, 'Well, when's the next perk coming?"
Let's talk about how great it is to do what we do. How to motivate yourelf to get to work, etc… [Link from show]
"My dad spends a day in a sweat shop back home in Lithuania and earns the same in 8 hours what I do in 1, just to affording giving me a chance to be where I am now. Millions of people are struggling to find jobs for a minimum wage for years. Many of them haven't even thought of working from home. Even more people are getting their butts of the beds every morning, going to the job they hate, just to support the basic needs."
How do you leave a business you started up? With partners? [Link from show]
"I have never felt so much anxiety in my life. This is the direct opposite of what my goal was. I don't want employees. Or a company. At all."
A story of business failure. Where have you/we failed with our businesses – tie into your talk from Front End about the lemonade stand?
https://medium.com/@nikkidurkin99/my-startup-failed-and-this-is-what-it-feels-like-c5d64b3ae96b
"So I closed $595k and started looking for a new co-founder. Problem was, I didn't trust anyone. Not after what my previous co-founders had just put me through."
Where @ next?


Digital PM Summit Oct 6th & 7th in Austin, TX – dpm2014.com
Breaking Development: Beyond the Desktop
https://bdconf.com
ConvergeFL Nov 7-8th
ConvergeRVA Oct 10th
Drinks at end of show:
Gene: If I were drinking a beer; i'd be drinking a Sierra Nevada Pale Ale
Carl: If I were drinking a beer; i'd be drinking a Founders IPA