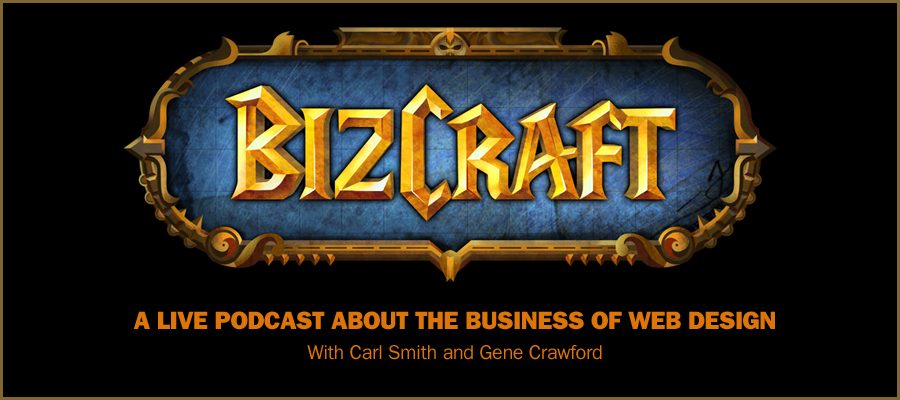 Play or Download this Episode (Recorded on 12/13/2013)
Download MP3 (39.66 MB / 00:43:20)
Subscribe to the Show
iTunes / RSS feed / Get Email Updates
We are now also syndicated on Stitcher.
About the Show
This is BizCraft, the podcast about the business side of web design, recorded live almost every two weeks. Your hosts are Carl Smith (@carlsmith) of nGen Works and Gene Crawford (@genecrawford) of UnmatchedStyle.
Episode Overview
In this episode of BizCraft we discuss next steps for Carl & nGen Works, how we all work too hard and time as a commodity.
We talked about:
Carl's Irrelevance Strategy post:
https://medium.com/on-management/295c2acfac3e
Micheal Lopp "volatiles and stables"
Questions I'm getting, "Why would you do that?"
"Somebody has to be in charge, you can't just leave."
"What about when someone needs to get fired, or somebody wants a raise? Who handles that stuff?"
But the big one is "What are you going to do now?"
The Busy Trap link that Daniel Burka recently posted to Facebook.
The goal of the future is full unemployment, so we can play. That's why we have to destroy the present politico-economic system." This may sound like the pronouncement of some bong-smoking anarchist, but it was actually Arthur C. Clarke
Then we got into this "Your most valuable asset" post – listen as Carl get's angry then winds up agreeing with the writer 🙂
https://medium.com/i-m-h-o/24b85684419e
Beers from the end of the show
Gene: New South White Ale
Carl: Founder's All Day IPA
Give us a review?
If you like the show, heck even if you hate the show, how about tell us about it in iTunes? It helps exposure for the show a lot! We'll love you for it!