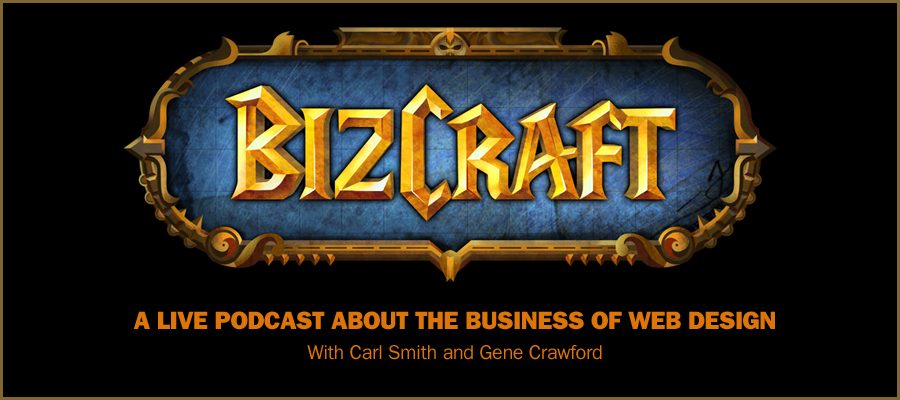 Play or Download this Episode (Recorded on 11/01/2013)
Download MP3 (56.12 MB / 01:01:18)
Subscribe to the Show
iTunes / RSS feed / Get Email Updates
We are now also syndicated on Stitcher.
About the Show
This is BizCraft, the podcast about the business side of web design, recorded live almost every two weeks. Your hosts are Carl Smith (@carlsmith) of nGen Works and Gene Crawford (@genecrawford) of UnmatchedStyle.
Episode Overview
In this episode of BizCraft we discuss how you must deflect negative energy to stay sane, how finding a mentor or a personal coach is a good thing and quickly cover 37signals new book about remote working.
We talked about:
I deflect negative energy – Dave Kovar (Link)
…several years ago when I was teaching self-defense clinic to a group of women. Everything was going great and after the seminar was over I received tons of great feedback. Then one lady pulled me aside and directed what seemed like a lifetime of anger in my direction because she felt that, as a male, I was unqualified to teach women's self-defense. Needless to stay on the drive home and for the next several hours after, I let her steal my joy. Rather than focus on the great feedback I had received from the majority of the participants, I concentrated on some comments from one particular person–and, mind you, a person with issues.
37Signals New Book: Remote
Finding a mentor or coach. Do it?!?!
Carl: Reaching out to 5 people a day you haven't talked to in a long while and talk.
Beers from the end of the show
Gene: Warsteiner Premium Verum
Carl: Weyerbacher Imperial Pumpkin Ale
Give us a review?
If you like the show, heck even if you hate the show, how about tell us about it in iTunes? It helps exposure for the show a lot! We'll love you for it!