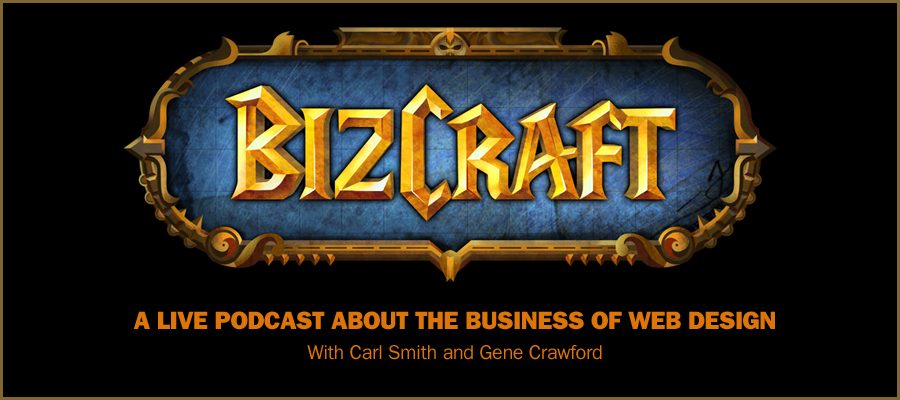 Play or Download this Episode (Recorded on 09/20/2013)
Download MP3 (49.35 MB / 00:53:54)
Subscribe to the Show
iTunes / RSS feed / Get Email Updates
About the Show
This is BizCraft, the podcast about the business side of web design, recorded live almost every two weeks. Your hosts are Carl Smith (@carlsmith) of nGen Works and Gene Crawford (@genecrawford) of UnmatchedStyle.
Episode Overview
We talked about:
Converge Florida
We talked a bit about how we thought ConvergeFL went, what would we change & what was the highlight for each of us.
Hitting the Reset Button
Carl recently started working with a large agency again. How to set this type of thing up properly, based on trust and telling the truth.
nGen's payment structure changes for new employees
Paying peeps at work. Hourly vs. Salary (typically businesses pay new people more than the team already in place.) What should a new person make coming into the team for the first time?
Removing Bosses
We dug in deep on this post about how Treehouse removed the middle management layer from their company.
Specifically we talked through this section of the post.
What do Managers Do?
In my experience, managers' responsibilities are:

Communicating messages from top to bottom
Settling disputes
Managing careers
Keeping their teams motivated and happy
Shielding their teams from things they didn't think they needed to know
Questions from the Kids:
From Chris Harrison
What suggestions could you offer to those with fragmented tech/web communities… Specifically: How do you get people to participate in events you hold and/or sponsor? How have you stayed motivated when community participation waned? Any general advice you could give to someone wanting to holding something like Converge in their city?
Beers from the end of the show
Gene: Spaten Oktoberfest bier Ur-Märzen + Dales Pale Ale in a Can
Carl: Nuthin' – he's getting healthy or some crap…
Give us a review?
If you like the show, heck even if you hate the show, how about tell us about it in iTunes? It helps exposure for the show a lot! We'll love you for it!