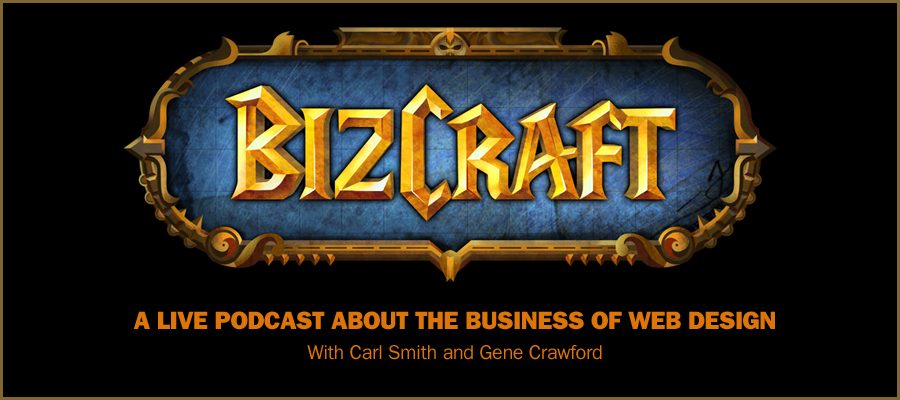 Play or Download this Episode (Recorded on 08/02/2013)
Download MP3 (42.53 MB / 00:46:27)
Subscribe to the Show
iTunes / RSS feed / Get Email Updates
About the Show
This is BizCraft, the podcast about the business side of web design, recorded live almost every two weeks. Your hosts are Carl Smith (@carlsmith) of nGen Works and Gene Crawford (@genecrawford) of UnmatchedStyle.
Episode Overview
We talked about:
An update from the nGen Works Portland retreat. Lots of good stuff here.
Ngen Works is shifting to billing weeks not hours, but explaining that the client is leasing the team and paying that overhead. Not hours, expertise. Trying to get to a place where they ignore market price for skills in determining salary, instead getting everyone a shot at the same salary
No longer selling responsive design, just selling design. The responsive part is standard. And how we talk to clients about RWD.
We discussed using Live Wires by Travis.
Converge Florida
We talked a bit about ConvergeFL and how we now have Facebook at a main sponsor.
Questions from the Kids:
Well not so much a question but a comment… by Geof from Subvert
Yesterday our family returned from a three-week road trip pulling our trailer from the Yukon to Saskatchewan and back again.
Of the 7,000 km, I spent the trip back by myself driving the truck. I listened to a ton of podcasts and in one of them, your BizCraft podcast was mentioned. As soon as we pulled into a town that had 3G, I searched for and downloaded an episode (on the Alaska Highway, there's no cell tower coverage most of the time).
I was instantly hooked. BizCraft was freakin' awesome.
Next town we hit, a couple of days later, I downloaded them all. You and Gene were entertaining to say the least and sure helped me pass the time more easily. It was so awesome to have other business owners be so honest and forthcoming about their companies.
And yep, I have the ngen works process wiki open right now and reading through it. Great stuff there too.
thanks!
Dude! Geof, thank you so much for that comment! We love you man!
Beers from the end of the show
Gene: Sierra Nevada Summerfest
Carl: Dogfish head 61
Give us a review?
If you like the show, heck even if you hate the show, how about tell us about it in iTunes? It helps exposure for the show a lot! We'll love you for it!