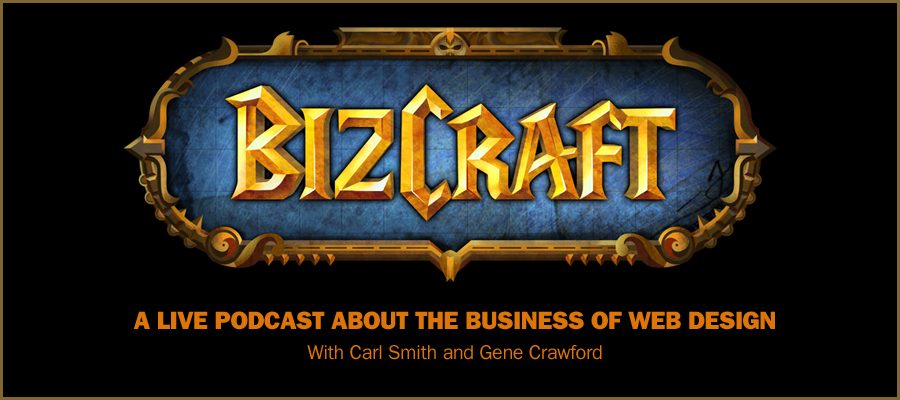 Play or Download this Episode (Recorded semi-live on 06/07/2013)
Download MP3 (51.71 MB / 00:56:29)
Subscribe to the Show
iTunes / RSS feed / Get Email Updates
About the Show
This is BizCraft, the podcast about the business side of web design, recorded live almost every two weeks. Your hosts are Carl Smith (@carlsmith) of nGen Works and Gene Crawford (@genecrawford) of UnmatchedStyle.
Episode Overview
In this episode of BizCraft we discuss the pros and cons of working with a full-service agency and how you might be able to pull it off successfully as well as getting involved in a start up business by providing services for equity in the business.
We discuss the pros and cons of partnering w/full-service agencies.
Perceptions regarding saying you are a part of another company and not really actually being one.
We got into talking about J Cornelius' Blog post: "Trading Design for Equity".
The main question from the post:
If I were to work for equity at a startup, what is a typical percentage one asks for? 25%? 5%? 50%? 15%? How do I go about estimating that sort of thing? I know how to estimate a project's cost based on my hourly rate but working for equity, as you know, can't really be quantified in the same way as the project's value is based on some future continent heretofore unknown. And I'm not an equal partner. I'd be the lead designer. What's that worth percentage wise? What's typical?
We then discussed some general topics that we've been wanting to cover since we started the podcast.
How do these effect our business, how do we think they apply to all services businesses like ours:
Don't get an office.
Get accounting software (or an accountant) on Day 1.
Ignore lawyers — they kill deals.
Pick a niche and become a specialist, not a generalist.
The greatest marketing campaign is offering a great product/service.
Where can you find us next?
UMS Crew:
Front End Design Conference
ConvergeFL Sept 11-12
ConvergeRVA Oct 11-12
Carl:
Arizona at Owner Camp
UX Mad
Beers from the end of the show
Gene: Samuel Adams Alpine Spring
Carl: Intuition Ale Works I10 Pale Ale
Give us a review?
If you like the show, heck even if you hate the show, how about tell us about it in iTunes? It helps exposure for the show a lot! We'll love you for it!