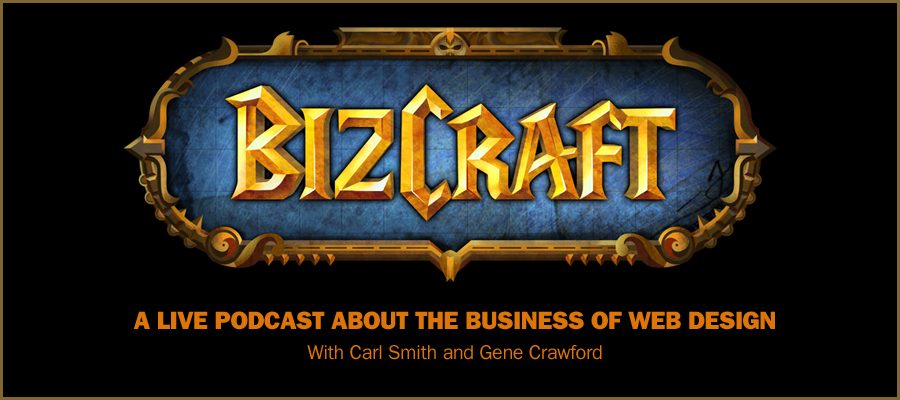 Play or Download this Episode (Recorded live on 11/02/2012)
Download MP3 (46.31 MB / 00:50:35)
Subscribe to the Show
iTunes / RSS feed / Get Email Updates
About the Show
This is BizCraft, the podcast about the business side of web design, recorded live almost every two weeks. Your hosts are Carl Smith (@carlsmith) of nGen Works and Gene Crawford (@genecrawford) of UnmatchedStyle.
Episode Overview
This was our first show back "in the studios". Kinda weird not sitting next to each other after 3 shows at events. We discuss what conferences mean to us and how we get along with going to bunches of them, side projects and changing our minds a lot.
Discussion Topics
The main discussion we started with was about the "conference life".
What does it mean to you?
What do you get out of it, personally or business wise?
The Highs and Lows of Side Projects
ANDREW DUMONT – BD at SEOmoz.
Side projects sound so appealing because they mitigate risk. They take something that's traditionally very scary, starting a business, and make it seem less daunting. The fear of failure and personal finance woes fall away, because it's just a side project.
He said people who were right a lot of the time were people who often changed their minds. He doesn't think consistency of thought is a particularly positive trait. It's perfectly healthy — encouraged, even — to have an idea tomorrow that contradicted your idea today.
How do you deal with being in a slump?
How do you practice patience with your business?
Article reference for this line of discussion.
Beers from the end of the show
Carl: Intuition Ale Works I10 IPA
Gene: Newcastle Werewolf
Upcoming Stuff & Notes
Don't miss getting your question sent in for the next show too!
NOV 13th is the Shoptalk show "CROSS OVER" with Chris Coyier and Dave Rupert.
Nov 28th @ 2pm EST with Jason M. Blumer, CPA @JasonMBlumer
CPA specializing in Creatives